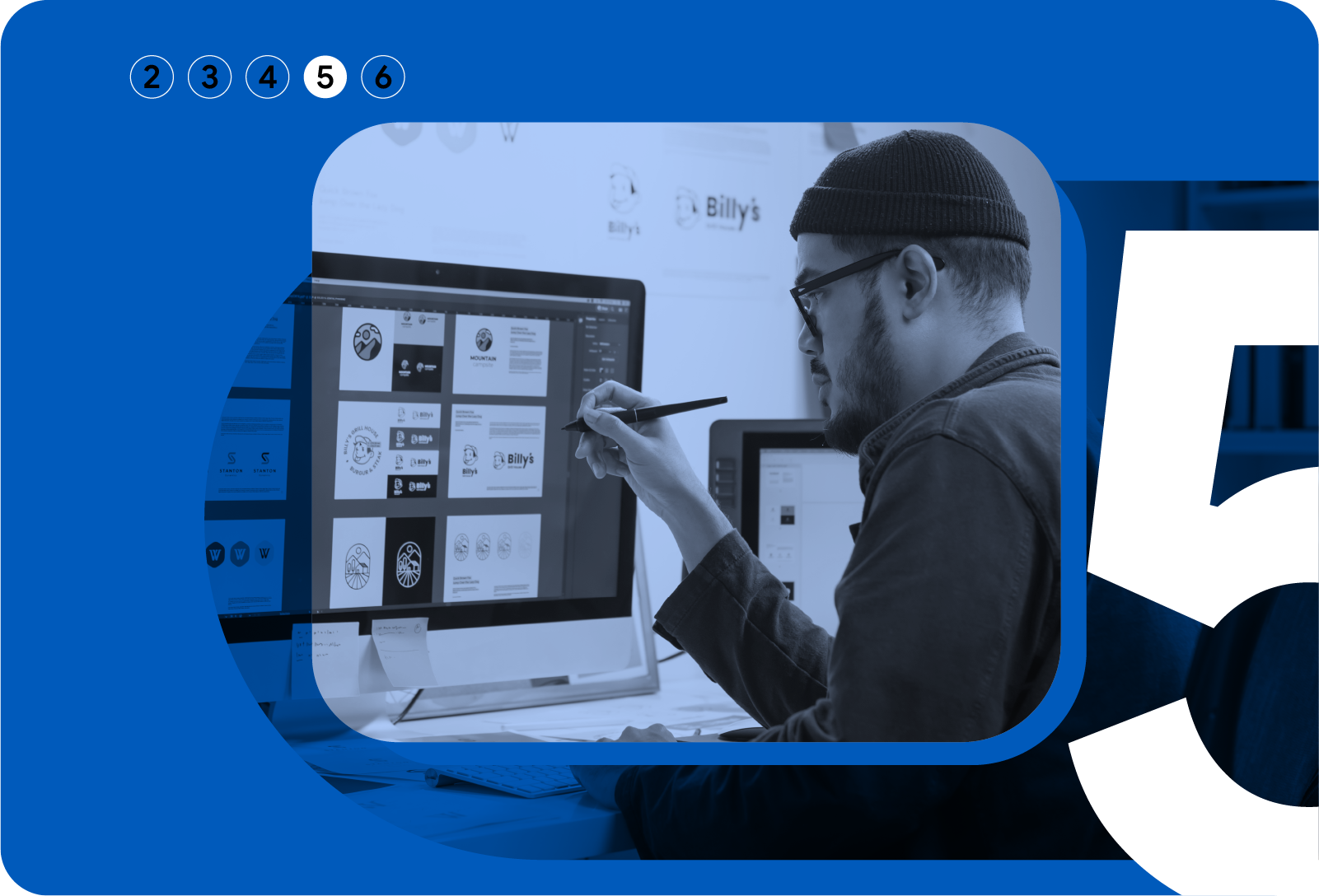 Unlock audiences
Leading agencies are using the latest innovations in AI not only to convert a brand's known "top audiences" and prospects, but also to uncover entirely new customer segments and pockets of demand. Over time, these new customers can become incremental sources of long-term growth. For example, many agencies have experimented with broad match, powered by Google's AI, to help brands unlock new search queries that drive performance.
In the past, marketers have sometimes avoided broad match keyword strategies out of concerns over lower relevance. But with AI now able to factor in a wider range of intent signals, broad match can understand more nuanced differences between search queries to better predict intent.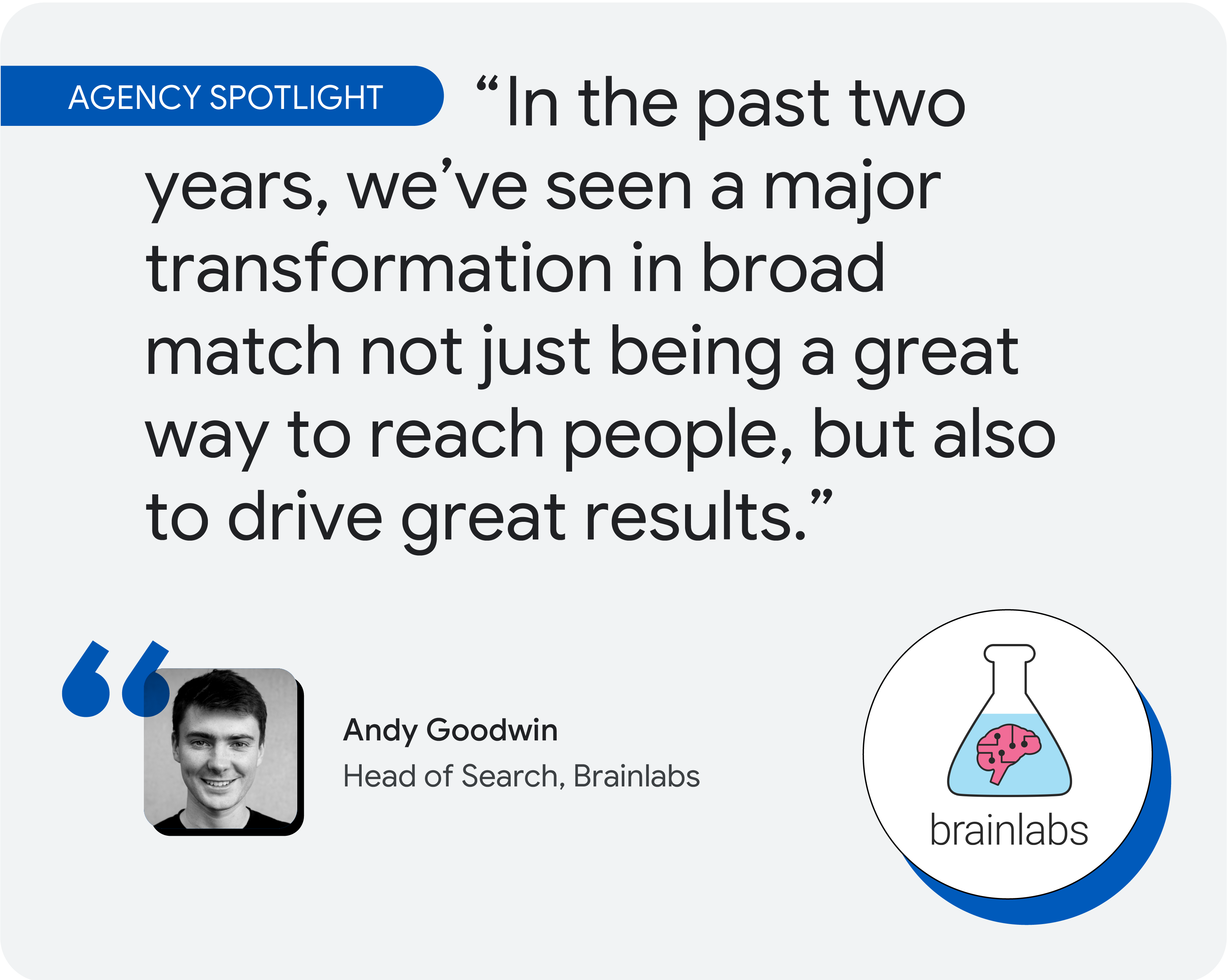 Drive incremental conversions with AI-powered Search campaigns
With AI's growing strength, Brainlabs decided — after running 54 client tests spanning 12 verticals around the world — to firmly position broad match as a key pillar of its Search methodology. In these tests, conducted using Brainlabs' proprietary tool Hippocampus, broad match keywords outperformed other match types, driving incremental conversions with more cost efficiency than exact match keywords.
"In the past two years, we've seen a major transformation in broad match not just being a great way to reach people, but also to drive great results," said Andy Goodwin, head of search at Brainlabs. "But here's how to ensure your broad match test fails: measure the wrong metrics. Broad match will find you incremental revenue, but will likely also make your click-through rate and conversion rate go down. If you're looking at metrics a few steps divorced from final performance, you are going to miss out. As long as you are fueling AI with accurate conversion data tied to business outcomes, broad match helps get you in front of customers that matter."
Find new customer segments
Using AI technologies, agencies are helping brands augment their consented, first-party data to find new incremental customer segments. These agencies are further accelerating AI's ability to learn from existing customers in order to find new valuable customers.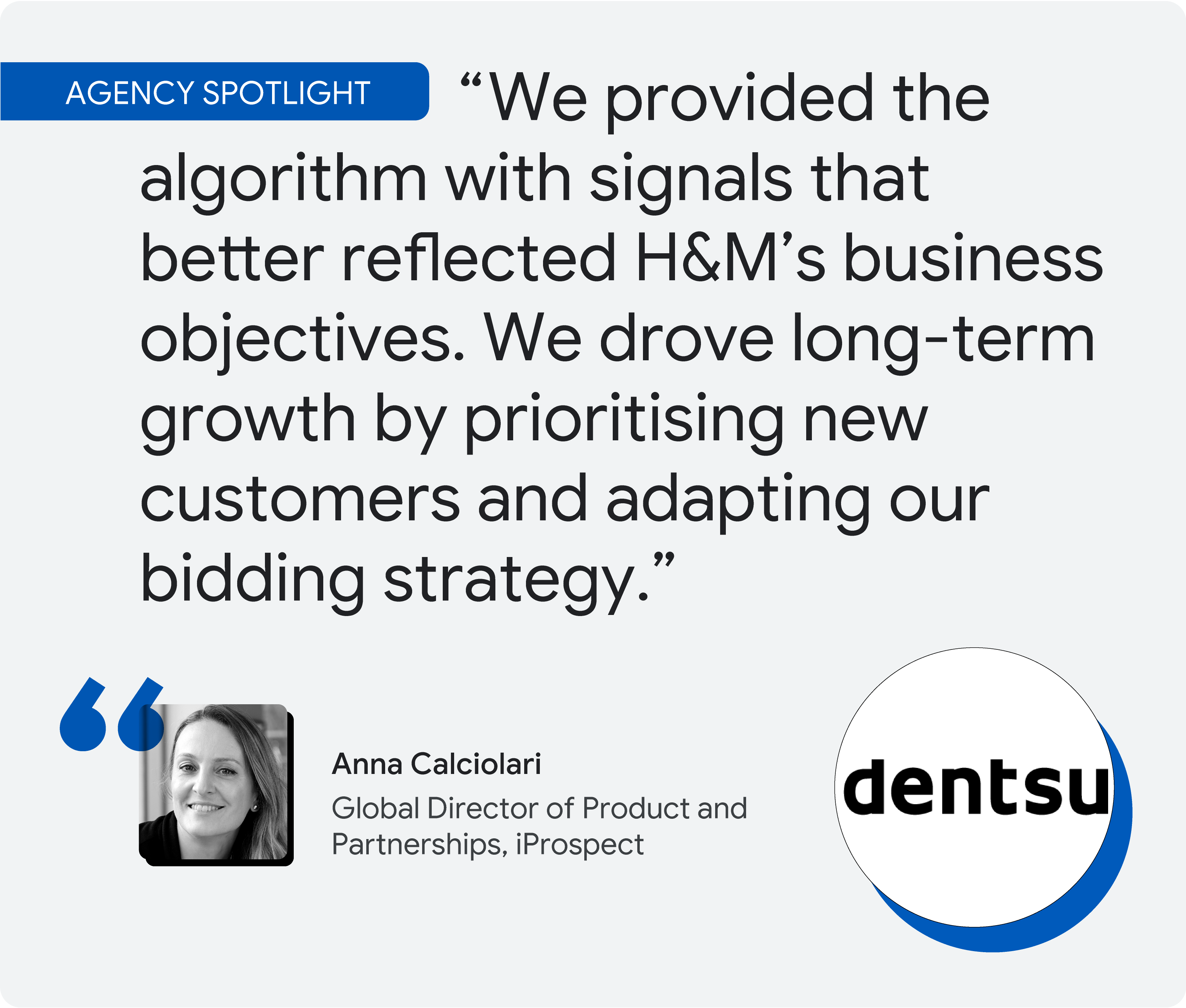 Prioritise new customer acquisition to unlock future growth
iProspect worked with H&M's global paid media team to use Search not only to drive revenue but to acquire new customers as well.
H&M initially wanted to optimise Search campaigns for revenue and return on ad spend (ROAS), a goal that retailers commonly use to drive short-term results. Over time, iProspect and H&M embarked on a project to better understand the impact of paid search activities on overall sales data. They arrived at some interesting insights. For instance, they discovered that optimising for short-term revenue led the algorithms to focus on consumers with a higher conversion rate, and thus campaigns were highly indexed on existing customers.
The team decided to add a new key metric, "new customer share," in order to reach more individuals who had never shopped at H&M. To support this key performance indicator, iProspect and H&M first needed to create a comprehensive understanding of the value of each customer segment. They used first-party data from H&M's membership club to create an approach that was based on a customer life cycle model.
By setting up custom revenue multipliers in Google Ads to influence how the system optimises for H&M's customer segments, iProspect and its client observed a 65% increase in new customers and a 70% increase in paid search revenue. According to Anna Calciolari, iProspect's global director of product and partnerships: "The results are interesting because many would expect the opposite revenue trend, as new customers typically have a lower conversion rate and average order value, as they are not bought into the brand yet."
"We provided the algorithm with signals that better reflected H&M's business objectives," said Calciolari. "We drove long-term growth by prioritising new customers and adapting our bidding strategy, and by investing our resources in strategic tasks like account restructure and feed and app optimisation."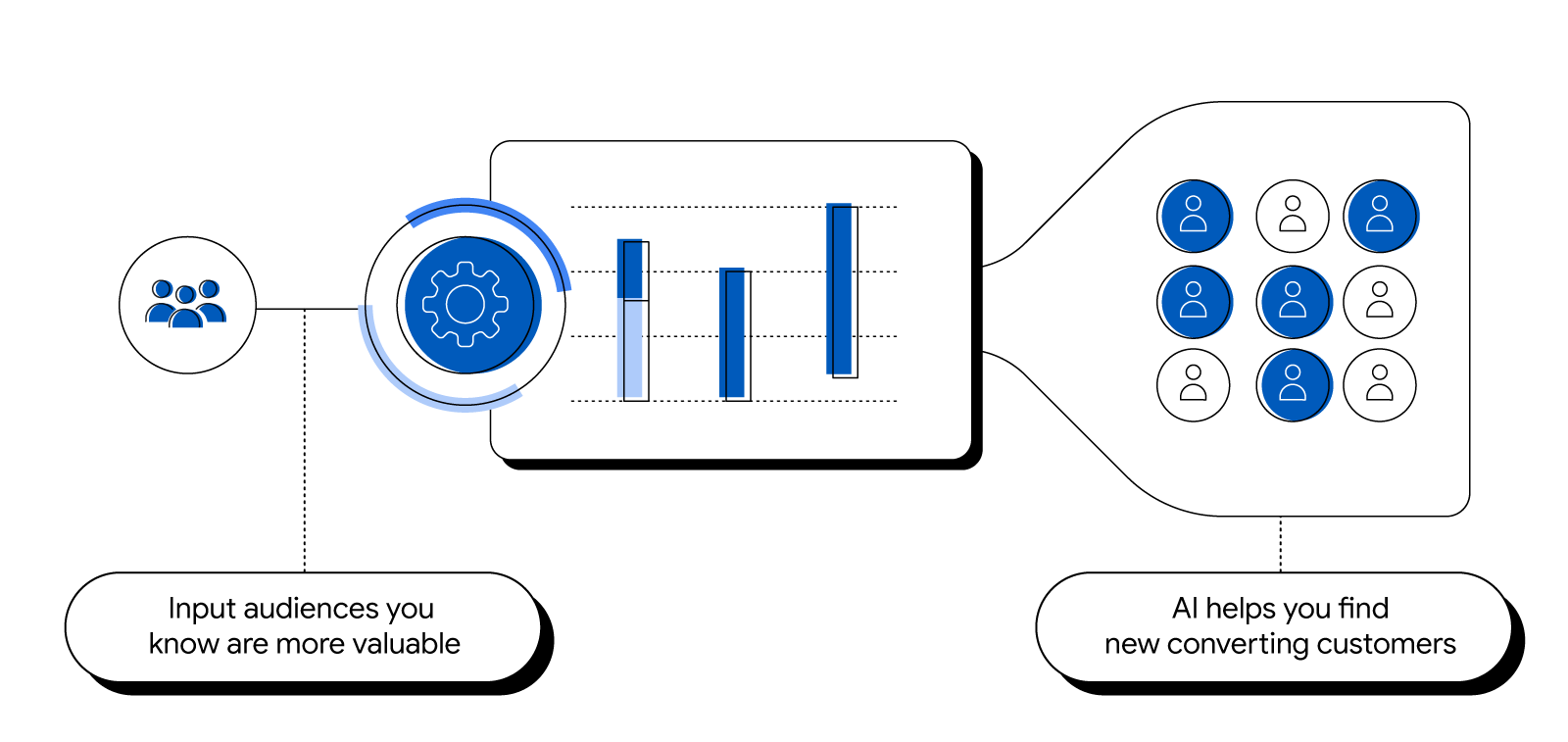 Optimise assets
Finding the right audience means nothing if a brand can't engage them with a meaningful ad experience. Agencies are in a prime position to help here, as well.
Agencies already have high expectations when it comes to AI and creativity. Agencies surveyed by Forrester expect the top benefits of AI to be increased capacity to deliver high-quality creative assets, an improved client experience, and improved results for marketing strategies.1
By providing the maximum number of creative assets and formats possible — including well-written copy, beautiful imagery, and attention-grabbing videos — agencies can get the most out of AI-powered features. AI benefits from having the widest possible range of assets in order to find the most relevant and best-performing combinations for a given audience and context.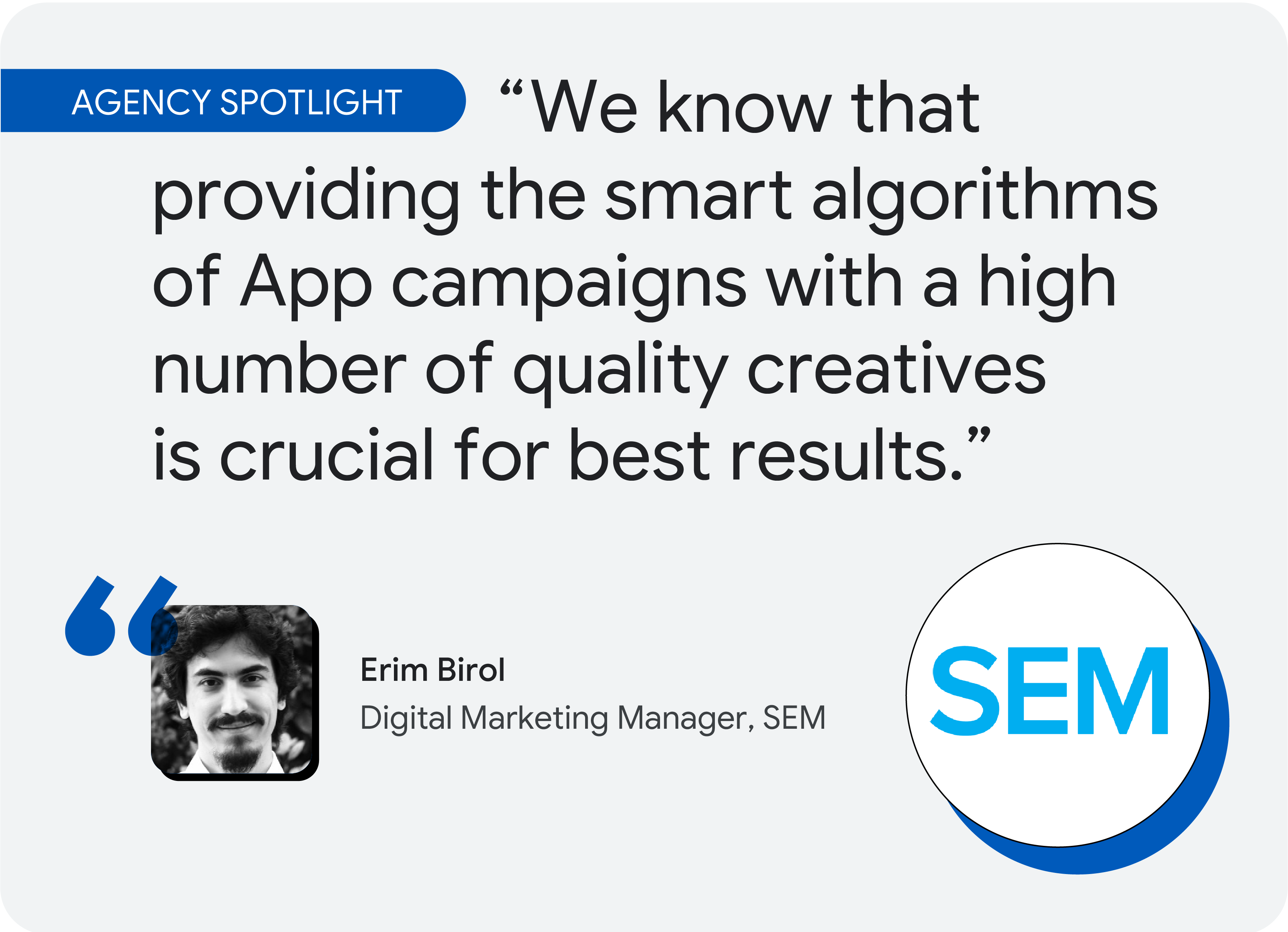 Increase conversions with new video creative
Agency SEM and its client LC Waikiki, a market-leading fashion brand in Türkiye, used asset testing functionality to deploy new video creative in Google's App campaigns for installs. The team designed an experiment with an equal audience split and a high 95% confidence interval threshold. They wanted to ensure the results would be as conclusive as possible since the test would have a lasting impact on their app creative strategy. They tested video assets that focused on their app's unique selling proposition and limited-time offers.
LC Waikiki's new video assets outperformed its evergreen assets, generating a 32% increase in installs and a 7% reduction in cost per install across video inventory.
"We know that providing the smart algorithms of App campaigns with a high number of quality creatives is crucial for best results," said Erim Birol, digital marketing manager at SEM. "With this experiment, we were able to observe the incremental benefits with tangible results."