Stephen Pritchard is the head of SEO at Merkle U.K. Here he explores how greater organic and paid data integration can unlock the power of search and drive business growth.
Many marketers have extolled the advantages of connected organic and paid search strategies. Yet marketing departments and agencies continue to keep channel teams siloed, making these teams sometimes oblivious to the insights that could be gained if they were to collaborate.
Thankfully, a shift in attitudes has been increasingly evident, with businesses taking aim at the barriers keeping channels in their lanes. They're assembling in-house teams and bringing in agency partners that understand the competitive advantages of collaboration.
While investing more in any kind of paid activity isn't going to have a direct impact on organic ranking improvements, investing in the collaboration between teams will provide insights that can give your organic search strategy an edge.
Getting subject matter experts to buy into the motto of "one team, one dream" is an important piece of the synergy puzzle. But without unifying the data used by these paid and organic teams, an incomplete picture emerges.
At Merkle, we have supported the moves of leading brands to collaborative organic and paid "total search" approaches in the past year. At the heart of this approach is an automated data blend through Google Data Studio, which pulls from the likes of Google Ads, Google Analytics, and Google Search Console for seamless visualisation between organic and paid channels.
Why connected organic and paid search data is more important than ever
The last 18 months have naturally seen a stark change in consumer behaviour, and search data is one of the best ways of understanding these shifts.
Converting lost footfall into online traffic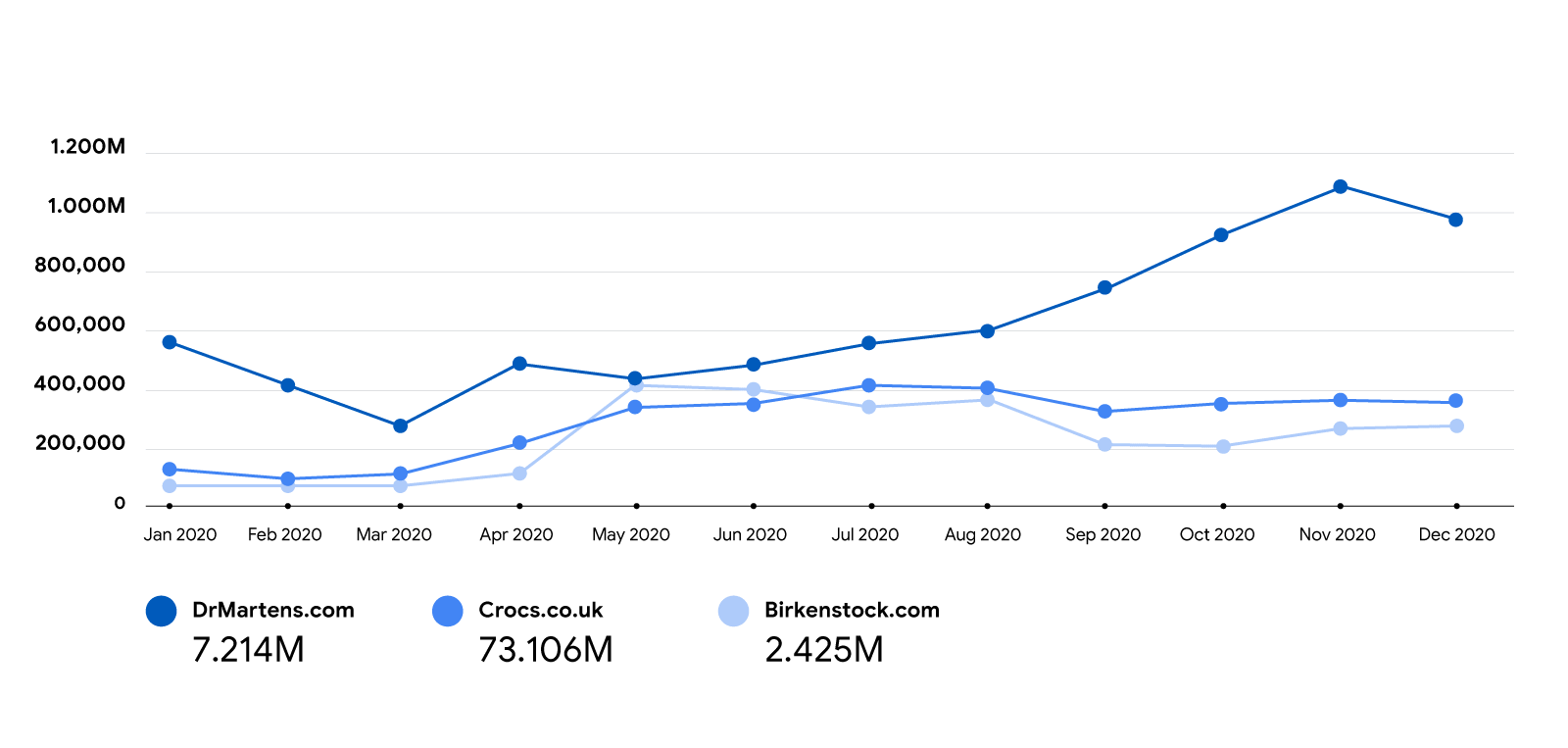 With offline shopping locked down between March and June 2020 in the U.K., we found three direct-to-consumer shoe brands converting the lost footfall into online traffic. Less expected was the retention of that traffic when shops reopened, and further growth in Q4 (when footwear is generally a less popular category, with people going outside less). With a larger audience, the breadth of queries will also have expanded, with those brands able to quickly identify trends and serve the needs of that growing audience.
With consumer behaviour continuing to be unsettled in the time of the pandemic, it's essential that businesses harness information in a way that ensures they remain visible when consumers' needs change.
Uncovering query coverage oversights
A straightforward way of using integrated data is to uncover query coverage oversights. By placing paid query and organic query coverage metrics side by side, areas for paid search expansion or organic optimisation becomes apparent.
A holistic view of data is as important for effective reporting as for finding actionable insights.
In our work with the cosmetics brand Benefit, we discovered that existing pages were ranking organically for newer search trends without paid activity. From this we learned two things: These relatively new queries should be less competitive, and Benefit's organically ranking pages for a particular search term had twice the Quality Score as unranking pages. That meant we could prioritise expanding paid coverage to the newer terms to capitalise on the opportunity.
The results demonstrate the power of eliminating gaps within your data: With a return on ad spend (ROAS) of 5.2, bidding on this set of keywords produced an outcome 20% higher than the account average.
This leads us to a critical point: A holistic view of data is as important for effective reporting as for finding actionable insights. Since a company's organic and paid listings can share the same results page, a change to how a single listing appears has consequences on how users interact with both the organic and paid listings.
With data kept apart, time and resources are wasted trying to understand why, say, organic traffic has declined, rather than replicating the lessons from the increased overall visibility and market share.
Acting on insights powered by blended data is an early step in the journey toward a total search approach.
Merging bidding strategy with organic search for better ROI
For brands further down the road, the potential for competitive advantage is even greater. Developing a bidding strategy that reacts to an integrated organic search data feed can improve ROIs further. For example, for keywords with high organic coverage and little competition, setting higher efficiency targets allows reduced spend to be reinvested in other areas of opportunity. Using auction-time bid strategies ensures the algorithm takes advantage of the real-time intent signals being collected, while data-driven attribution ensures the value of a conversion is based on the value of the steps in the user's journey — essential for any approach where organic and paid work together.
Finding areas of opportunity to reinvest in becomes easier with the additional data provided by eliminating gaps, which in turn has the benefit of making Google Ads Smart Bidding even more powerful.
One of the best ways to optimise for ROI after the ad click is to make the whole experience faster. And yet, while page speed has been a landing page factor for Google Ads since 2018, most paid search teams don't make speed recommendations. Meanwhile, SEO experts, who are forever trying to get buy-in for development resources, rarely demonstrate the ROI gains that paid campaigns can see with a faster site — something we expect to change as organic and paid teams work more closely together.
With Google expanding its paid and organic service range, marketers have benefited from organic shopping and paid local search, which drives collaboration across channels and unlocks even greater commercial opportunities within the search ecosystem.
Now is the time to bridge the gaps in your search data and bring your paid and organic teams together.
As SEO experts, we moved our focus from organic rankings to the wider customer experience long ago. We have made the most of the Google ecosystem, whether that's making sure local listings are optimised for map-pack discovery, adding structured data for click-enticing search engine results page features, or ensuring a brand has control of their knowledge panel.
Now is the time to bridge the gaps in your search data and bring your paid and organic teams together. Who knows, you might also make some new friends.