Google Search is turning 20 this month. That's practically an eon in the digital realm. And to say search has changed dramatically would be an understatement.
Those old enough to remember the dawn of the search age will remember that it largely served as a directory for other web destinations. Only later did it become a place to find answers. Even then, search wasn't always the most natural thing in the world. Savvy searchers figured out how to craft queries best suited to Boolean logic. Remember the key words or phrases in quotation marks combined with AND or OR or NOT? Non-savvy searchers likely struggled a bit.
The good news for searchers of all stripes is that the technology behind search keeps getting better and, these days, search behavior has become a lot more natural.
That, in turn, has lead to big shifts in consumer behaviour. So what do marketers need to know to craft a winning search strategy?
Expectations are high
One thing is clear: Consumers increasingly turn to search with extremely high expectations. They're turning to search to find everything from a lightbulb to a car, from the hours of the closest fast-food chain to reviews for family cruises. And every time they do, they're demonstrating their intent. They want prices and locations but they also want inspiration and advice. And they expect information fast.

Today, people are always on. In fact, 84% of people are shopping for something at any given moment and in up to six different categories.1 Google has found that shoppers are more curious, more demanding, and more impatient than ever before.
Whether searching for toothbrushes or automobiles, shoppers want the best and they're turning to search.
For these consumers, no decision is too big or too small. Whether searching for toothbrushes or automobiles, shoppers want the best and they're turning to search. As former Nestlé Waters North America Executive CMO Antonio Sciuto said, "What consumers want has changed dramatically thanks to the devices in our pockets. Consumers now research even the smallest daily decisions. It's not a surprise to us that some of our customers research a bottle of water as deeply as they research an expensive bottle of wine."
Even when people don't know exactly what they want, they turn to search for ideas and inspiration. We're seeing that people are more open to discovering and trying new brands than ever before. Mobile searches for "brands like" and "stores like" have grown over 60% in the past two years.2
And when it comes time to purchase, they want it immediately, whether they're buying online or in the real world. Search interest in "open now" has grown 300% between 2015 and 2017.3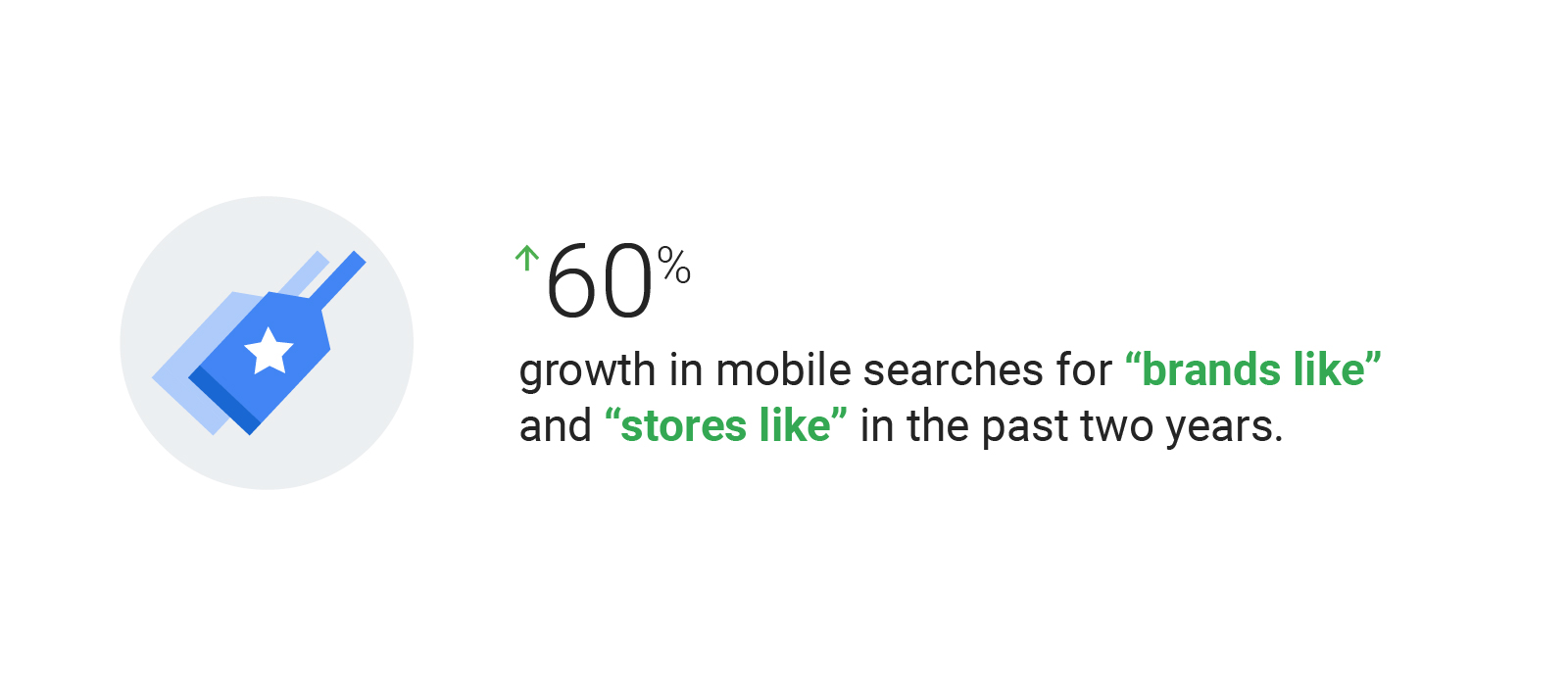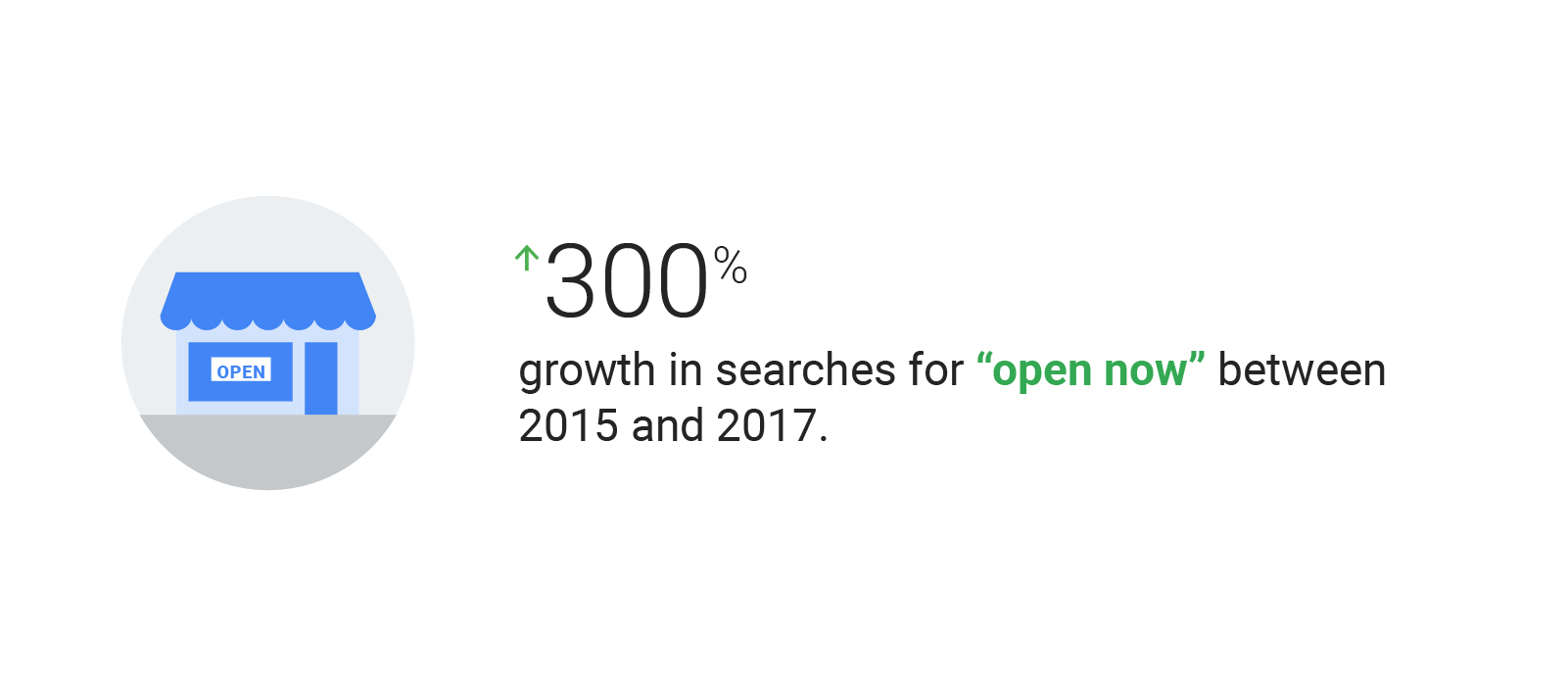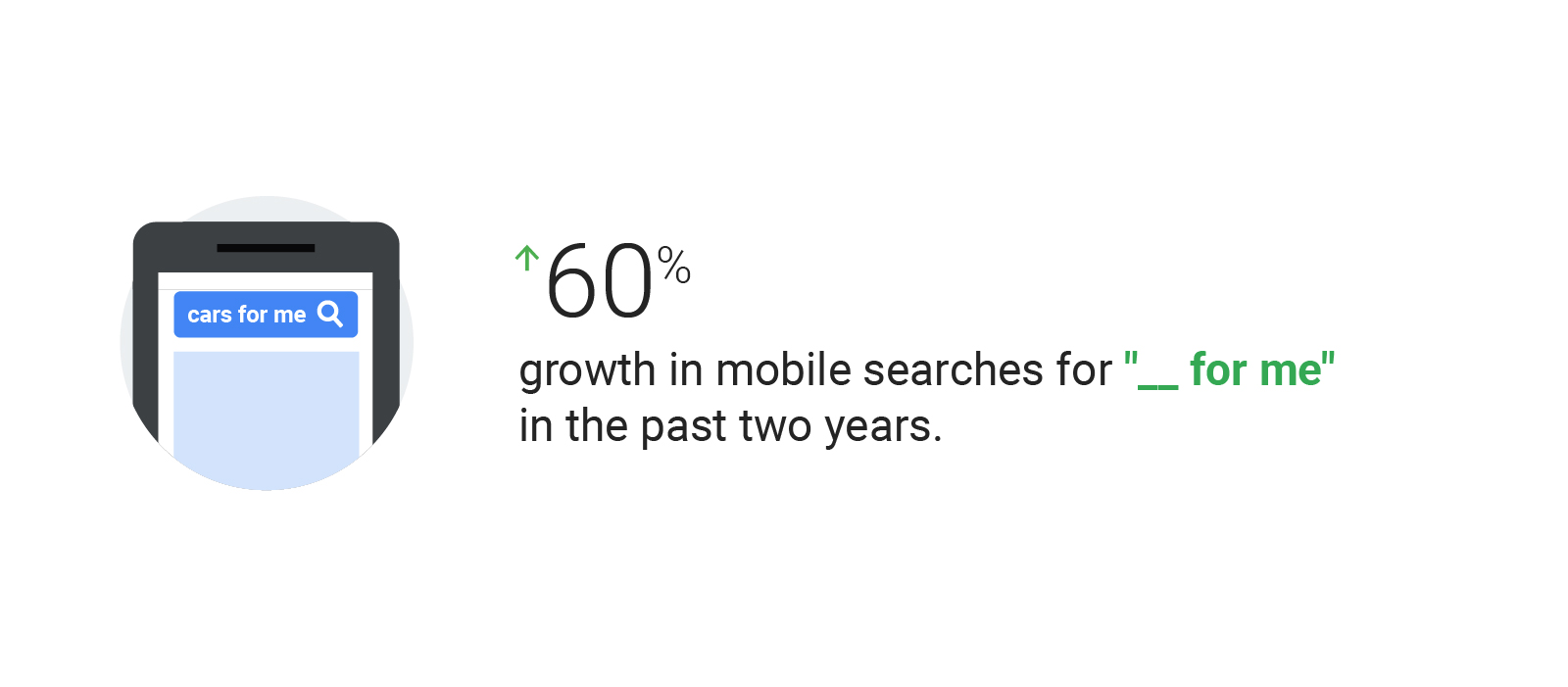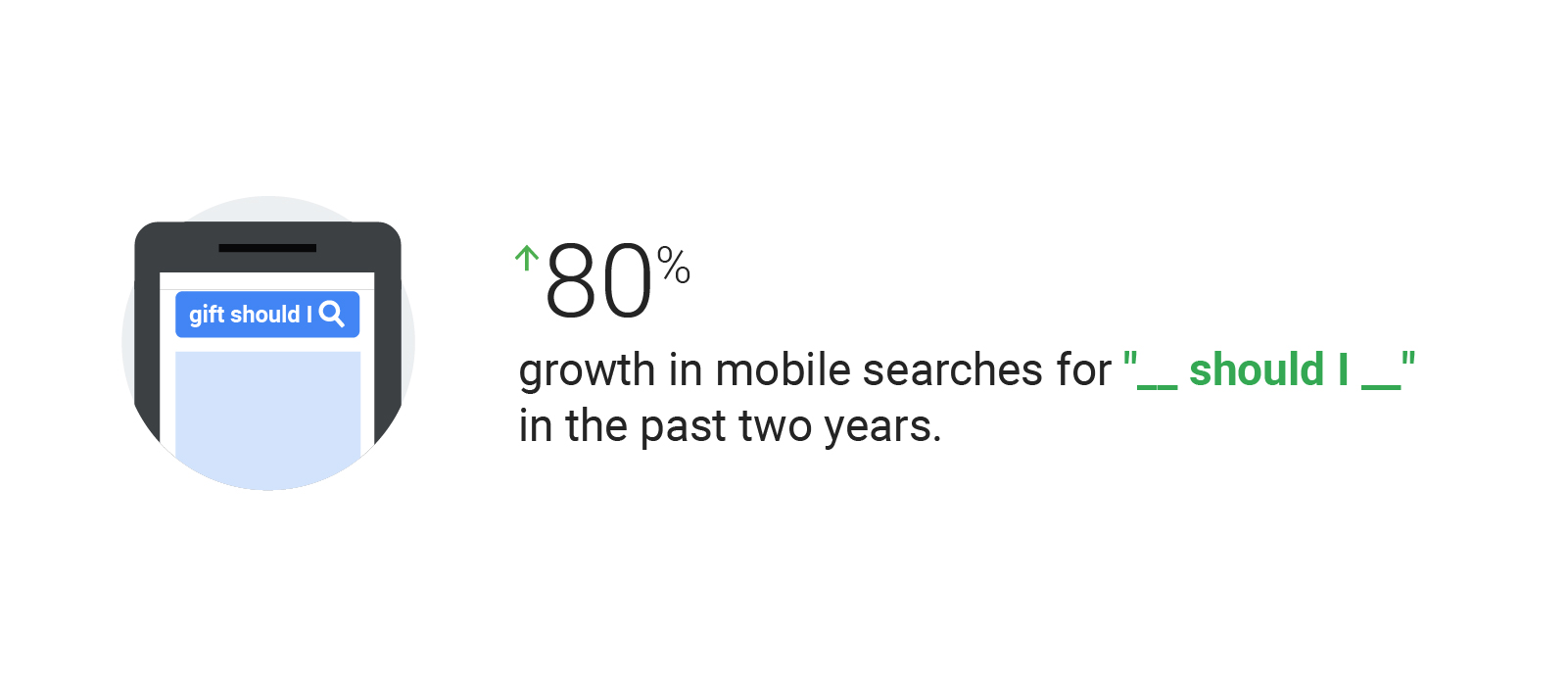 Search behavior is personal
When it comes to getting trusted advice, most people turn to a friend or family member — someone who really understands them. And now, according to the latest data, that list includes search.
Put simply, people want the shoe, the car, the hair product, or financial service that's just right for them. We've seen a 60% growth in mobile searches for "__ for me" in the past two years, and an 80% growth in mobile searches for "__ should I __" in the past two years.4
People now believe that answers to their most specific questions are out there, and they trust search to deliver the right response at the right time. In fact, even finding the "best" is a personal thing. It's not necessarily about finding the best thing that exists, it's about finding the best thing for your needs.
One person told us, "A taqueria 10 miles away might have 400 5-star reviews, but I'd be fine with a 4.5-star taqueria a stone's throw away." One person might be swayed by product features, whereas another won't. "I don't care if a vacuum cleaner has a light on the front or an automatic cord winder. The best one for me is best at picking up pet hair," another person said.
What's next for search
Search has dramatically changed over the last 20 years, and it's likely to continue changing in the future. Marketers need to be one step ahead of customers — it's time to start predicting their needs regardless of where they are in their journey.
Search enables marketers to tap into real insights across media to predict consumer intent at scale.
Search enables marketers to tap into real insights across media to predict consumer intent at scale. And putting the right actions behind that power lets marketers go from fragmented planning and chasing intent to predicting what people will need throughout the journey.
Consumers habits will evolve along with technology. But the one thing all searchers have in common is that they want assistance every step of the way. Marketers who remember that will be rewarded with growth.
Google at 20: Take a look back at what else Google has been up to since 1998 — and get a glimpse at where we're heading next.