Movements supporting expressions of identity and equal treatment are changing lives. The challenges of the past year have developed people's compassion for themselves, their neighbors, and communities beyond their own, inspiring action across the country and around the world.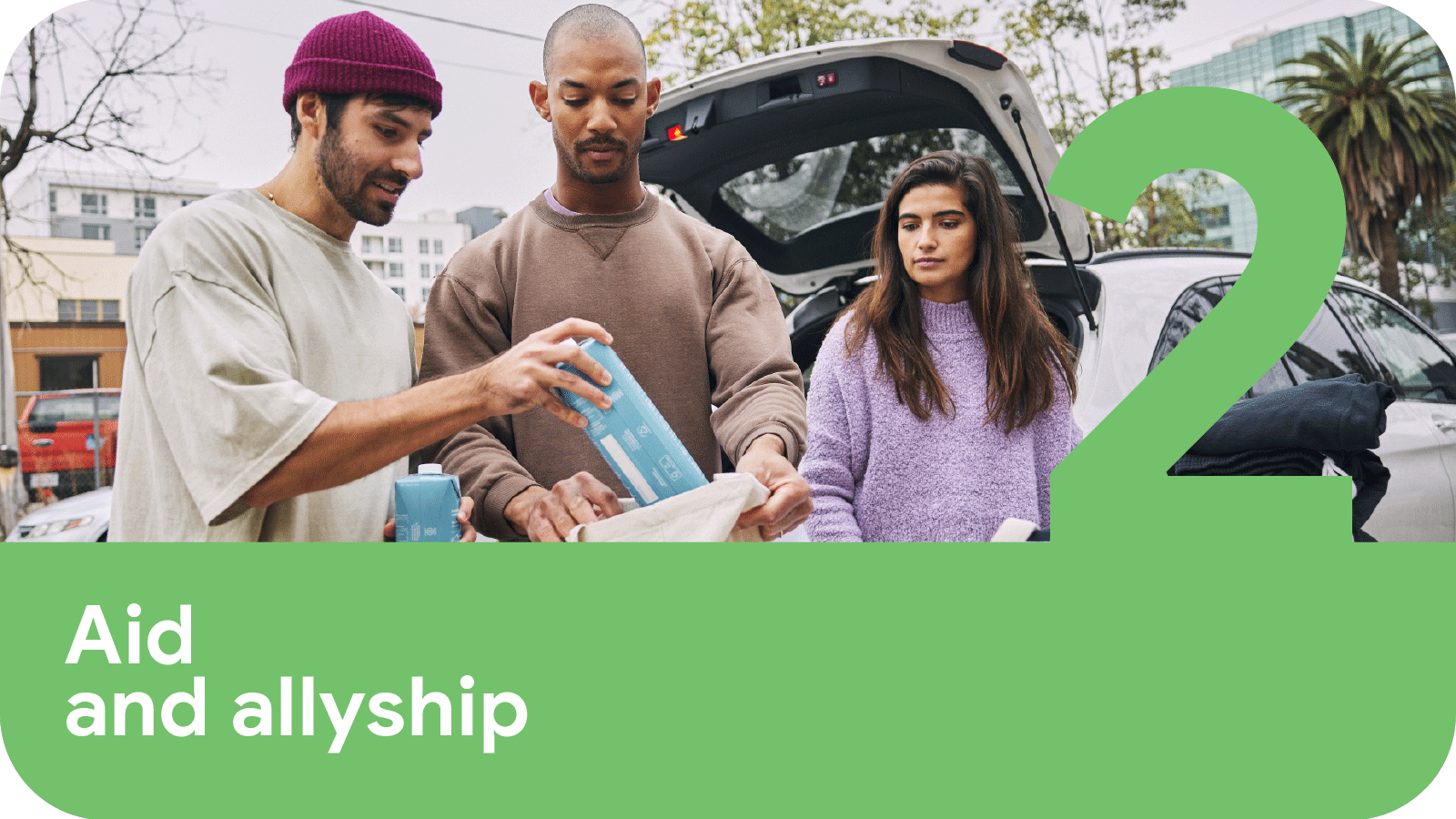 Cecil Horton, 26, social entrepreneur and community organizer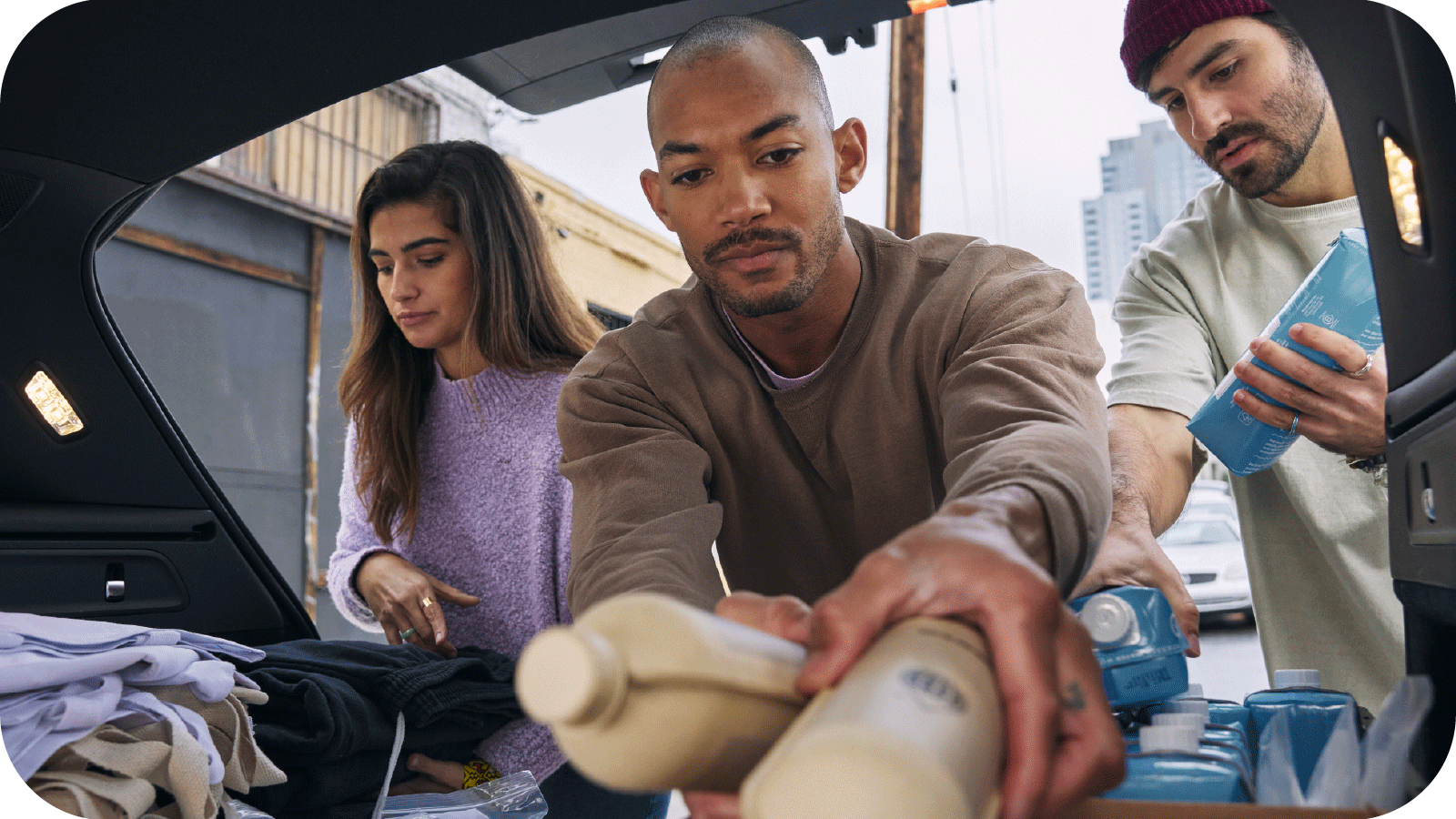 In 2022, Cecil Horton felt called to rejoin the offline world. "I almost never want to see a phone again," he joked. "So I started having little house parties as the 'resident friend' of San Diego." Some of his new friends would later become his partners in philanthropy. With help from Horton's business — With. Company, which partners with brands and nonprofits to support community projects — the team raised funds from apparel sales, strategic nonprofit partnerships, and brand sponsorships to distribute 12,000 bottles of water to their unhoused neighbors.
The need for their efforts became more urgent when the Northern Hemisphere saw its second-hottest summer on record. U.S. search interest for "climate change" rose by 150% year over year (YOY).1
Horton's inaugural With. Welcome gathering in November served both to bring people together and to raise awareness of community investment projects sponsored by his organization.
"Now we get to invite some bigger community partners into the picture," said Horton, "with local nonprofit organizations that we're able to support through the proceeds that we're able to generate. All for the sake of really connecting and giving people that sense of belonging. That's what our first event [was] all about. We can really make sure we help all of our neighbors, so far as their basic needs are concerned. It's the least we can do."
We relied on our communities during the pandemic. Now we're investing in them
For many, habits shaped by the constraints of the pandemic lasted well beyond the lockdown era. According to the U.S. Chamber of Commerce, 56% of consumers are now patronizing neighborhood stores or buying locally sourced products. The trend tells us that keeping funds circulating in their communities to promote economic and social empowerment is important to individuals, so it should be important to the companies whose storefronts and offices are there too.
Where the will to donate is strong, so is the expectation that brands will do the same — especially in the neighborhoods they call home.
In 2019, Google committed $1 billion to help increase the Bay Area's housing supply and support organizations working on related issues. The pledge includes $50 million for Bay Area nonprofits providing critical support and innovative interventions, like cash transfers for community members experiencing homelessness. In January 2023, the Google.org Fellowship will partner with Bay Area Housing Finance Authority to build a one-stop shop that will allow the public to find and apply for affordable housing across the nine Bay Area counties.
"By calling out the Bay Area as our home, we are acknowledging this specific community and how it has supported us, inspired us, and how it continues to motivate us to do more impactful work," said Adrian Schurr, Bay Area giving manager at Google.org. "As someone who was born and raised in the Bay Area, I know how special this community is. That's why it's so important for us to have a role in trying to help make this region a better place for all who live here."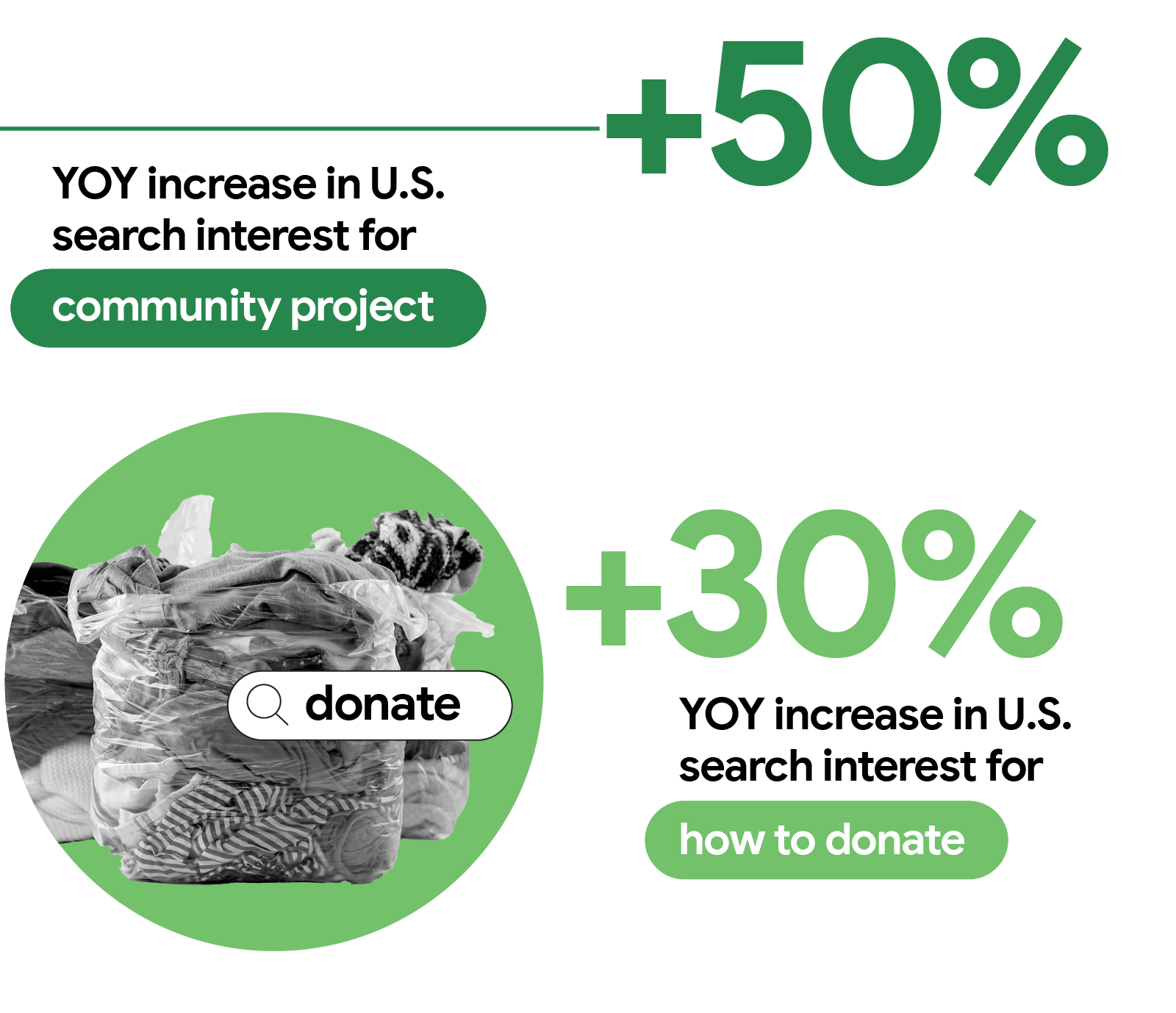 Building trust with neighbors is a key part of brand storytelling today. Ads no longer say it all; a company's actions say much more. Consumer trends shed light on where community members would most like to see brands partner with cause-driven organizations: U.S. search interest for "community project" grew by 50% YOY,2 "care of the environment" by 55% YOY,3 "how to volunteer" by 25% YOY,4 and "fundraising ideas" by 20% YOY.5
One important way brands can help is by giving employees the opportunity to give back in meaningful ways. As part of the Google.org Fellowship program, groups of five to 15 Googlers can work pro bono for six months at a time by fully embedding at a nonprofit, social enterprise, or civic entity.
"The work of our Fellows is not only to build the technology but also to help train that organization in product management and user experience best practices," said Gabe Doss, a manager for Google.org's skills-based volunteering initiatives. "It's really an opportunity to take the best of Google and what's really rich and unique about our work here and bring it to the outside world. So rather than saying, 'Hey, here's 5 million dollars to go figure out how to do this work,' we want to walk alongside you to do that work for six months for free and completely at the organization's direction. That's really the power of the Fellowship in our eyes."
It's really an effort to quite literally go back home for some Googlers.
After launching an affordable-housing portal in collaboration with the City of San Francisco and Exygy, a social impact software development company, Google.org partnered with the City of Detroit to replicate the program. Doss, a native Detroiter, was one of the Googlers who signed up to help. "In terms of that volunteering effort, it was extremely meaningful to me to be able to do that work in a city where I have roots," he said.
Four of the 13 Googlers had connections to Michigan, and a few of the 13 had experienced housing instability or homelessness in their own lives, Doss emphasized. "And so, it's really an effort to quite literally go back home for some Googlers, to call back to their own life experience and find a way to make an impact in those spaces that are important to them."
And we're joining together to help each other in times of crisis
Forty-one percent of donors worldwide gave to nongovernmental organizations (NGO), nonprofits, and charities in response to natural disasters in 2022, according to Nonprofits Source. Most charitable donations in the U.S. come from individuals, a trend that has continued despite economic uncertainty impacting household budgets.
Google.org brought together both the International Rescue Committee, an NGO that helps people affected by humanitarian crises, and an international initiative called United for Ukraine to launch the United for Ukraine portal. The platform has helped over 250,000 refugees find housing, legal aid, and psychological support. The ongoing crisis in Ukraine has led to an outpouring of interest and action as reflected by soaring U.S. search interest for "for ukraine" (1,300% YOY), including "where to donate for ukraine,"6 and "to ukraine" (1,000% YOY), including "best organizations to donate to ukraine."7
Over the course of six months, Google.org provided a $1.5 million grant and dispatched 15 Google.org Fellows to expand the resources offered by the United for Ukraine project across 25 countries. They also helped scale the technology for faster redeployment in future crises. Exchanging knowledge with experts in the humanitarian aid space is essential to producing useful tools at scale.
People's interest in helping is an invitation for brands to step up and align themselves with the values that matter to their audiences. Of course, donations are just one way to "walk the talk" of being a cause-driven brand or company. In the tech sector, support might take the form of increasing security protections for high-risk users, including local news services. A cursory glance at what people are searching for in the U.S. shows interest in helping with global efforts beyond specific conflicts. U.S. search interest for "food crisis" grew by 120% YOY,8 and "climate action" rose by 85% YOY.9
Alex Diaz, who leads the Crisis Response and Humanitarian Aid portfolio at Google.org, manages Google's response to global crises. The work has ranged from deploying teams to restore internet access in The Bahamas after Hurricane Dorian to supporting direct cash transfers from longtime grantee GiveDirectly in the aftermath of Hurricane Ian and during the height of the COVID-19 pandemic. Those partnerships with nonprofits already piloting programs on the ground are critical, he told The Keyword.
"To have the greatest impact, we rely on strong partnerships with nonprofit organizations around the world that are preparing communities for disasters or delivering relief and recovery efforts," he said. "These organizations are the experts; we learn about their needs and search for where our philanthropic capital, coupled with technology, can help make the biggest difference."
Donations are just one way to "walk the talk" of being a cause-driven brand or company.
The pressure on companies to commit to environmental stewardship mounts with every passing year. "Each humanitarian crisis creates moments of acute individual need," said Lewis Samuels, senior research and insights manager at Google's Global Insights Lab.
"When brands step up and support people in these moments of crisis, there's an opportunity for the brand to establish a more meaningful relationship with each person," said Samuels. "As climate crisis drives emergent weather events, consumers across demographics will face moments of need. Brands shouldn't see these issues as separate from their business or view their involvement in these issues as mere marketing."
We're educating ourselves about gender and sexuality, and seeking out inclusive experiences
A good travel experience should be more than just a safe and comfortable one. But Booking.com's Travel Proud program — a training and certificate program for hospitality professionals — prioritized both as a way to reassure LGBTQ+ travelers of what they could expect on their trips.
For Amon Versteeg, senior director of business marketing at Booking.com, the initiative had personal resonance. "The LGBTQ+ community is not accustomed to being 100% themselves," he told Think with Google. "Over time and over history, we've learned to suppress a part of who we are." The program aims to ease the necessity of traveling with a "detective mindset" and uncertainty around how welcoming an establishment might be toward LGBTQ+ patrons.
Inclusive experiences and products are in high demand, with U.S. search interest increasing not only for "lgbtq travel," but for "lgbtq owned." Vital to the Booking.com program's success was the fact that it was designed by members of the LGBTQ+ community, since performative allyship from brands faces increasing skepticism.
Threats to marriage rights are top of mind for people across the U.S. People are seeking knowledge about their rights. U.S. search interest in "same sex marriage," including "is same sex marriage legal in all states," rose 85% YOY.10 While sobering, this presents brands with a moment to show support in more meaningful and substantive ways. For example, sparkling water brand bubly is donating to the Stonewall Inn Gives Back Initiative and to beloved local LGBTQ+ community spaces.
As cultural acceptance of gender diversity grows, people will pay more attention to how inclusive a brand really is. U.S. search interest grew YOY for "what is nonbinary" (35%),11 "gender expression" (30%),12 and "gender identity (30%).13 Corporate actions could be as simple as adding the honorific "Mx" to a dropdown menu. It could also show up as support for small LGBTQ-led businesses, like artisan goods purveyor Beekman 1802.
"Visibility and representation really do matter, and I think they matter even more in rural America," said Beekman 1802 co-founder Josh Kilmer-Purcell. "All the LGBTQ+ population of Sharon Springs is out — visible and equal members of the community like anybody else. And that shows the other rural communities around us that being out and being visible can equal success in a small town."
Most corporations want their employees to feel good about going to work for their employer. That means creating safe and affirming work spaces for everyone.
Rob Smith, creator of gender-free apparel brand The Phluid Project, says that brands have a role to play in protecting LGBTQ+ rights in the U.S. — starting with their own employment and hiring practices. Over 8 million workers in the U.S. identify as LGBT; 1 in 4 reported experiencing employment discrimination due to their sexual orientation or gender identity at some point in their lives.
"Most corporations want their employees to feel good about going to work for their employer. That means creating safe and affirming work spaces for everyone," said Smith. "Performative companies focus on parades and parties in June. … A solid authentic strategy is year-round and leans heavily into education, corporate culture, and philanthropic commitment. We're beyond same-gender couple benefits and must now focus on gender-identity recognition, access to gender-affirming health care, [and] access to restrooms, among the many policy changes needed to support the entire queer community."
In 2023, brands should put action over words
While short-term profit may be top of mind, customer trust formed now will strengthen brands during recovery. Prioritize actions over words. For example, consider publicly reporting progress toward specific KPIs to avoid the appearance of "purpose-washing."