Concerned about the future, people are looking for items and experiences that provide good value. But value goes beyond price point. It also covers brand trustworthiness as measured by reviews, product popularity, and sustainable options.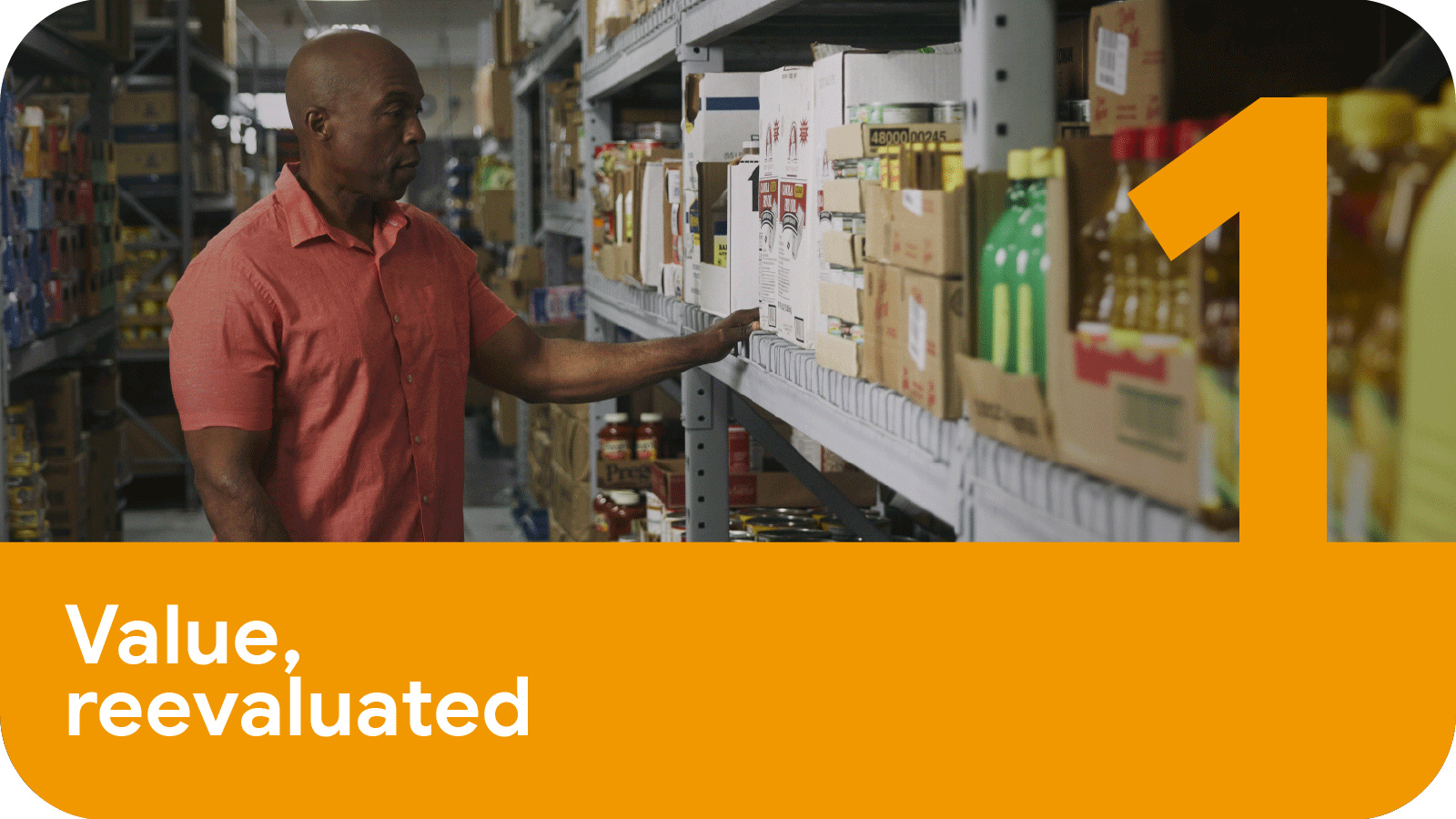 Jamie Boatright, 59, small-business owner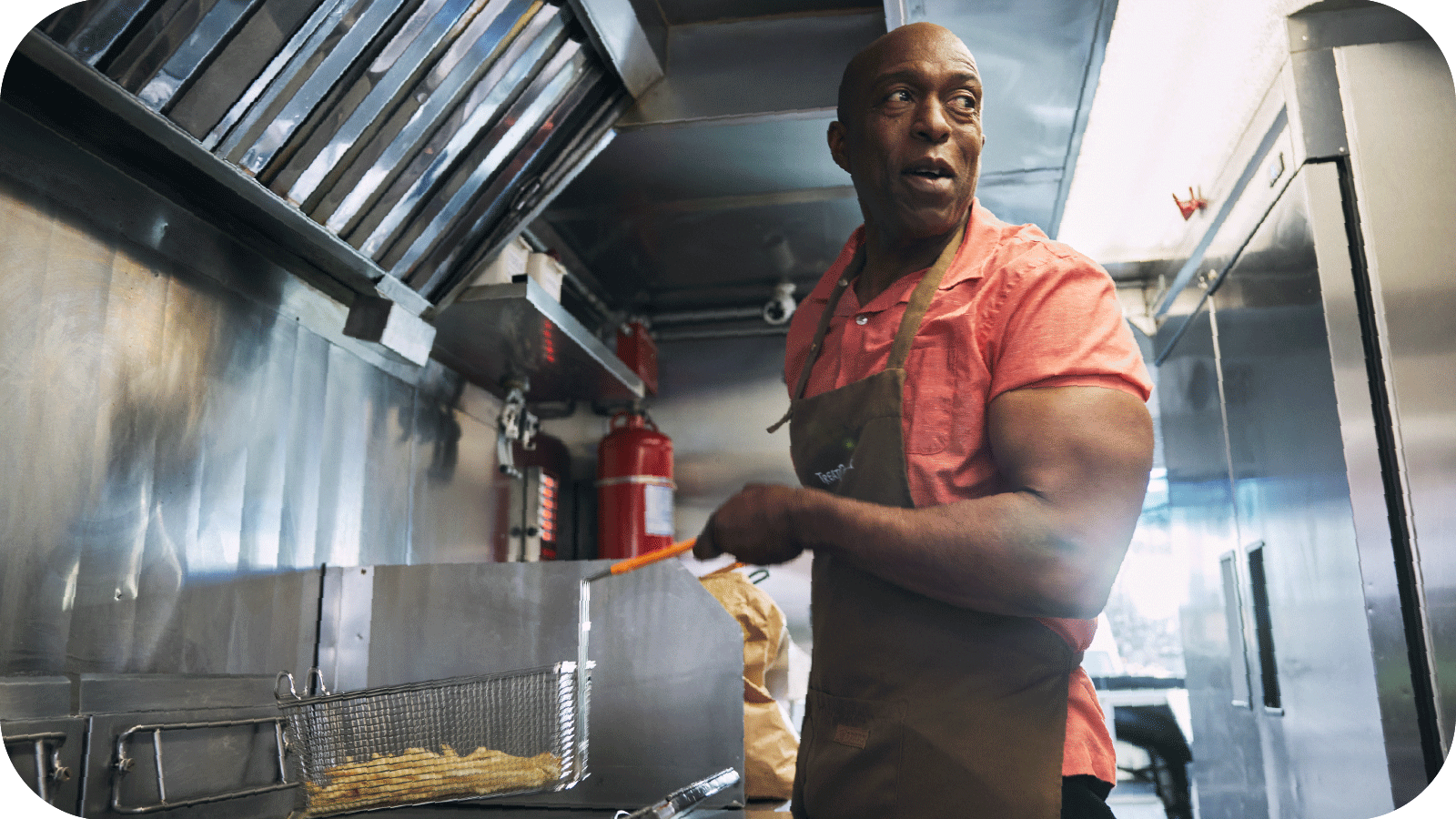 For years, Jamie Boatright made fitness apparel. Then the pandemic caused demand for workout clothes to plummet. Realizing that leg day at the gym wasn't what it used to be, Boatright knew he had to pivot fast.
So Boatright opened Treat Day Truck. His wild berry smoothies, fried lobster tail tacos, and apple turnovers — the last, an old family recipe — have since gained a dedicated following beyond the Los Angeles neighborhood of West Adams where it opened. It was a feat made more impressive by the fact that the chef had no prior culinary experience.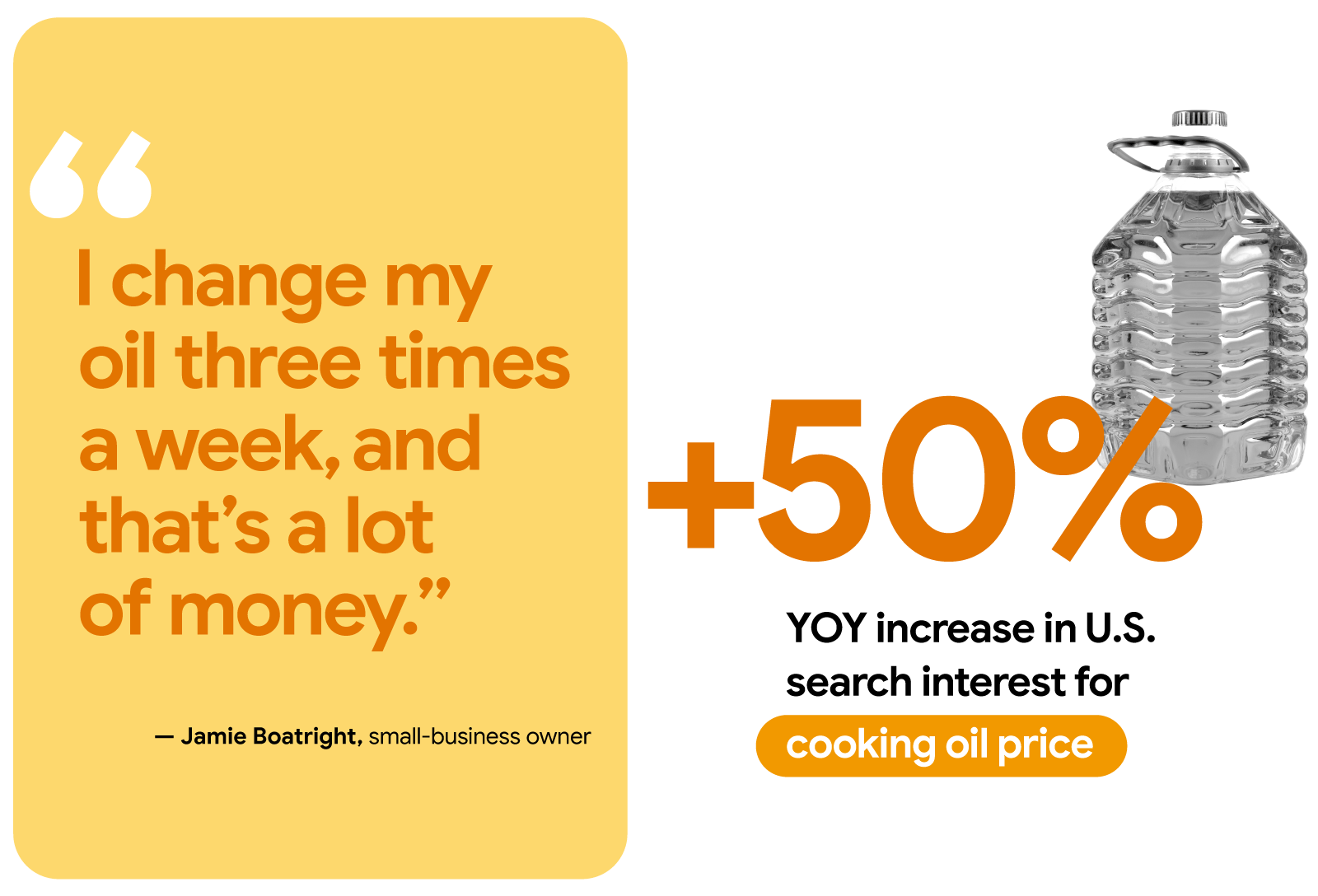 Since then, Boatright's business has weathered unexpected market fluctuations, yet his customers are still buying his original culinary inventions — one of which comes with a souvenir mug.
"I have a passion for quality," he told Think with Google. "I change my oil three times a week, and that's a lot of money." Rather than trade premium ingredients like canola oil and vanilla beans for cheaper alternatives, he uses Google Search to find suppliers offering the best prices, and often follows up with the vendors to find local small businesses that carry their products.
We tried to make sense of the world around us as the economy changed
Consumers and business owners alike are seeking to better understand what they should do to prepare for the unknown. To earn their trust at this critical time, brands should avoid "shrinkflation" and other cost-cutting strategies that compromise their offerings.
Americans' anxiety around finances is lingering despite the knowledge that the worst of U.S. inflation has passed. Globally, people's searches reflect demand for discounts, with "buy 1 get 1" and "loyalty programs" gaining traction worldwide. That means building loyalty in slower periods is important for brands aiming to reemerge top of mind for customers when they are ready to spend again.
Local businesses are the backbone of our communities. More than two-thirds of U.S. consumers say that it's important to support local businesses.
In the U.S., search interest for "day deals," such as "pi day deals," rose by 30% year over year (YOY).1 Meanwhile, "loyalty program" rose by 40% YOY,2 and "price match," such as "does [name of brand] price match," rose by 20% YOY.3 Offers and rewards programs give customers without the luxury of splurging a way to keep buying their favorite products with confidence. They also help local businesses keep serving them at the same level, maintaining their trust through periods of decelerated spending.
"A business' online presence isn't just a great way to be found by potential customers. It's also a great way to continue to stay engaged with existing customers," said Claire Mudd, senior marketing director at Google. Tools like Business Profile allow business owners to respond to reviews, add updated photos, share special offers, and more, all at the frequency they choose.
"Local businesses are the backbone of our communities. More than two-thirds of U.S. consumers say that it's important to support local businesses,"4 said Mudd. "And even if they are planning to visit in person, they're first searching for information online."
When we decided to spend, we turned to each other for advice
People are redefining value in terms of brand trust, and independent user reviews have always been an effective reputation builder. This year, more Americans used Google Search to research the "best travel pillow" (+145%),5 find "airline reviews" (+70%),6 and determine the "best credit cards" (+30%), including the "best credit cards for travel."7
A year after most lockdown orders were lifted, people are also researching in-person activities, with search interest for "museum reviews" (+50%),8 "experience gifts" (+50%),9 and "restaurant reviews" (+35%)10 all climbing. YouTube can be a great way for customers to preview an experience before they commit to a purchase decision, said Caroline de Fontenay, director of YouTube and video global solutions at Google.
"We know that people have less time to read, so having a video that answers their questions can be very powerful and convincing," she said. "Especially when it comes from a creator they know." According to Talk Shoppe, 87% of viewers agree that YouTube Creators give recommendations they can trust.11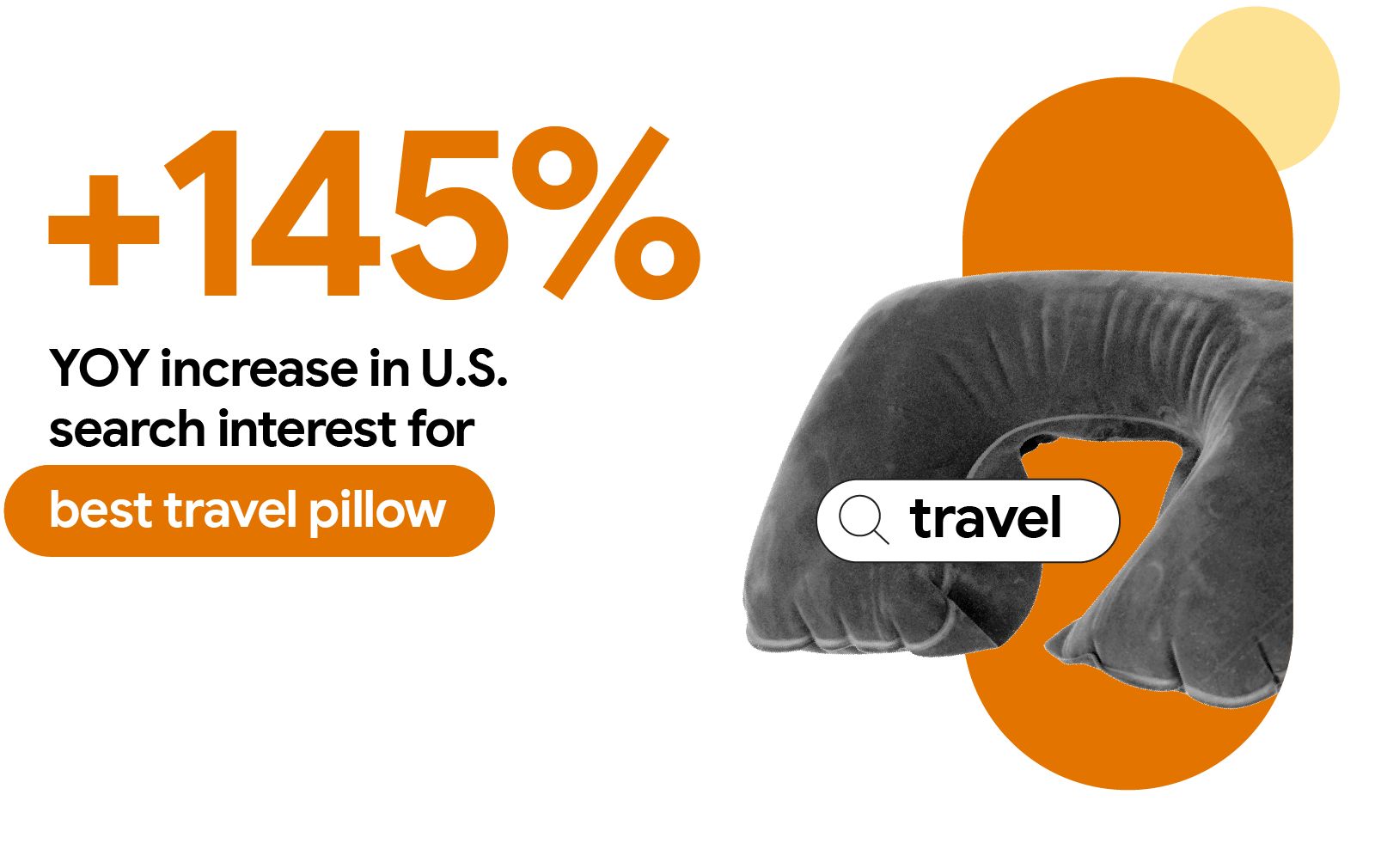 According to de Fontenay, three major trends on YouTube tell us how people are using the platform to seek and share advice. "The first one is unboxing. For certain categories like tech or luxury, fans love to share their experience. When they purchase a product, they open the box on camera. That helps consumers anticipate their future experience if they purchase that product.
"The second one is product comparison. For example, 'What is the difference between brand A and brand B?' That is a key trend on YouTube, with YouTube Creators — recognized or not as experts — who are testing and expressing their opinions, and making recommendations. When people are searching for a very deep understanding of what two brands offer, they lean into those videos to get all the information."
You cannot expect to have someone move directly from 'I know you' to 'I buy you' without all the steps that are required in between.
The last kind of user-review video is a demo. "For example, in makeup tutorials, a standard practice is that YouTube Creators explain which product they use and provide links to purchase them in the video description," said de Fontenay. Whether the viewer is searching YouTube for "nail art" or "perfect pumpkin pie," it's important for brands to show up in the list of recommended products.
Just as important as awareness, however, is consideration. "You cannot expect to have someone move directly from 'I know you' to 'I buy you' without all the steps that are required in between," said de Fontenay. "Video plus access to more than 2 billion viewers make YouTube a very powerful platform to raise awareness. And YouTube is also uniquely positioned to drive consideration by helping customers explore more about your product, then guide them to your website to engage further." Advertisers now have the ability to drive to key actions on their websites using specific creative strategies and then measure results.
"Using Google's AI, YouTube multiplies customer connections to meet the audience with the right message so they take the right action," said de Fontenay.
And we found that savings and sustainability can go hand in hand
State-level incentives for going electric hold more power these days, with sustainable-car buyers actively looking for savings and benefits. U.S. search interest for "ev tax" grew by 115% YOY,12 "cheapest electric car" by 135% YOY,13 "electric vehicle tax credit" by 75% YOY,14 and "cost to charge" by 70% YOY.15
The specific attention to affordability follows a surge in general curiosity about the market, with U.S. search interest for "ev cars" and "plug in hybrid" growing by 120% YOY16 and 115% YOY,17 respectively. Meanwhile, U.S. search interest for "electric pickup truck" rose by 45% YOY,18 a sign of how the market is expanding to meet more needs.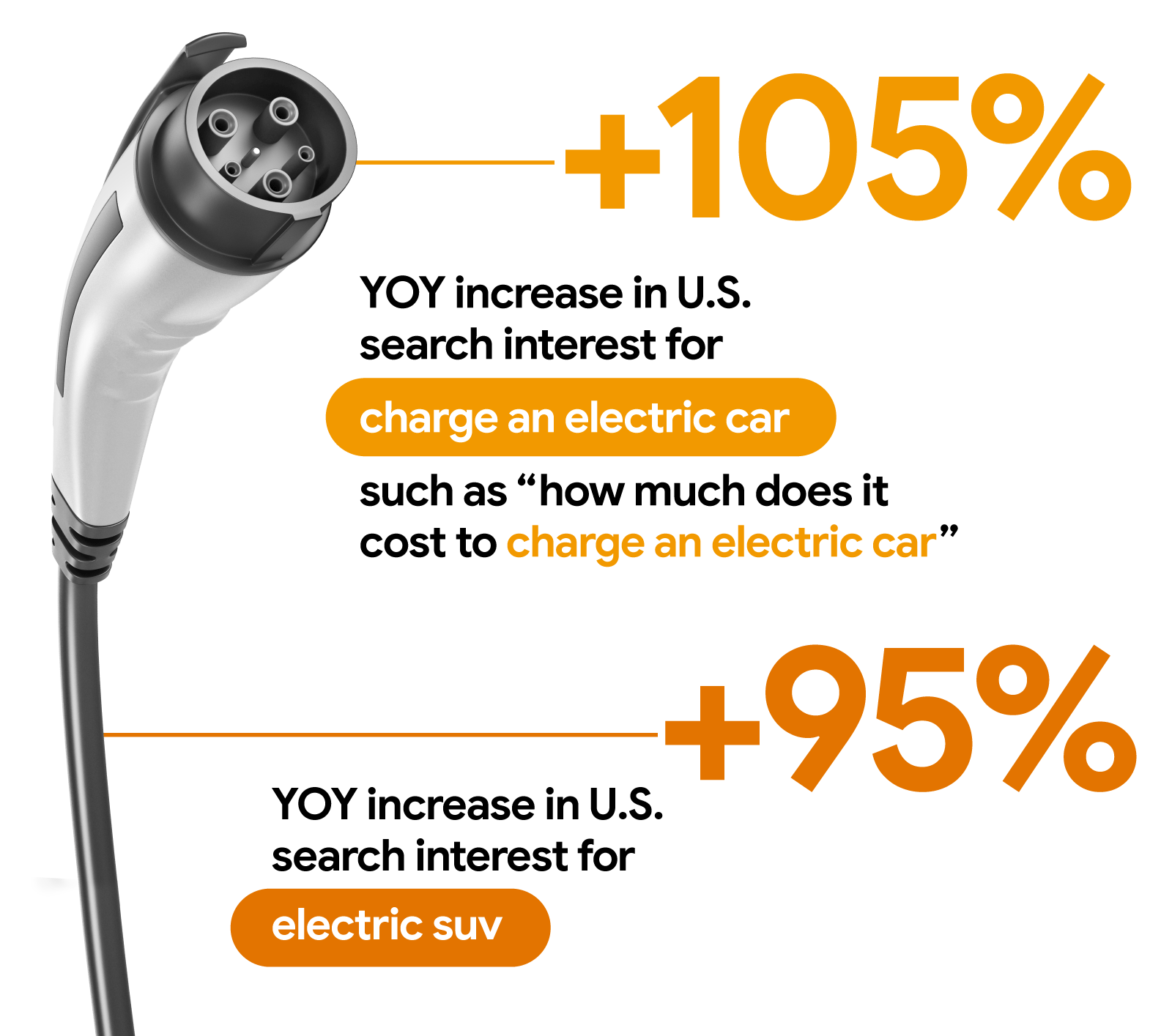 "The auto industry is one space that's poised for brand loyalty to be upended, since by the end of 2025 there will be over 150 new electric vehicle models in the market versus the 30 that are available now," said Thomais Zaremba, managing director of automotive at Google. "With the EV market expected to grow five times its size soon, auto marketers will need to start investing in brand marketing for these new models today to ensure they emerge well positioned and top of mind when EV options increase for shoppers tomorrow."
Auto isn't the only vertical reflecting consumer interest in both sustainability trends and the savings they can bring. The phrase "cheap alternative to" saw a 30% YOY increase in U.S. search interest19 with breakout searches like "alternative airlines" and "cheap flights." People are also more curious about saving energy at home, with U.S. search interest for "is solar worth it" rising 40% YOY.20
Google continues to launch features and products that make it easier for people to understand and compare more sustainable options. For example, users can find eco-friendly routes in Google Maps that offer more fuel-efficient journeys, or search for eco-certified hotels and flights with lower carbon emissions.
By the end of 2025, there will be over 150 new electric vehicle models in the market.
In 2023, marketers should provide value as customers define it
When people reconsider their budgets, they're also reassessing brands. Trustworthy reviews and budget-friendly sustainable offerings can help build loyalty and gain brand consideration among those with potential to switch.