To alleviate stress, people have come to seek out products and experiences that revitalize them. They're doing more research to make more confident life choices. And hybrid work now allows many the flexibility to optimize daily life for what they care about most.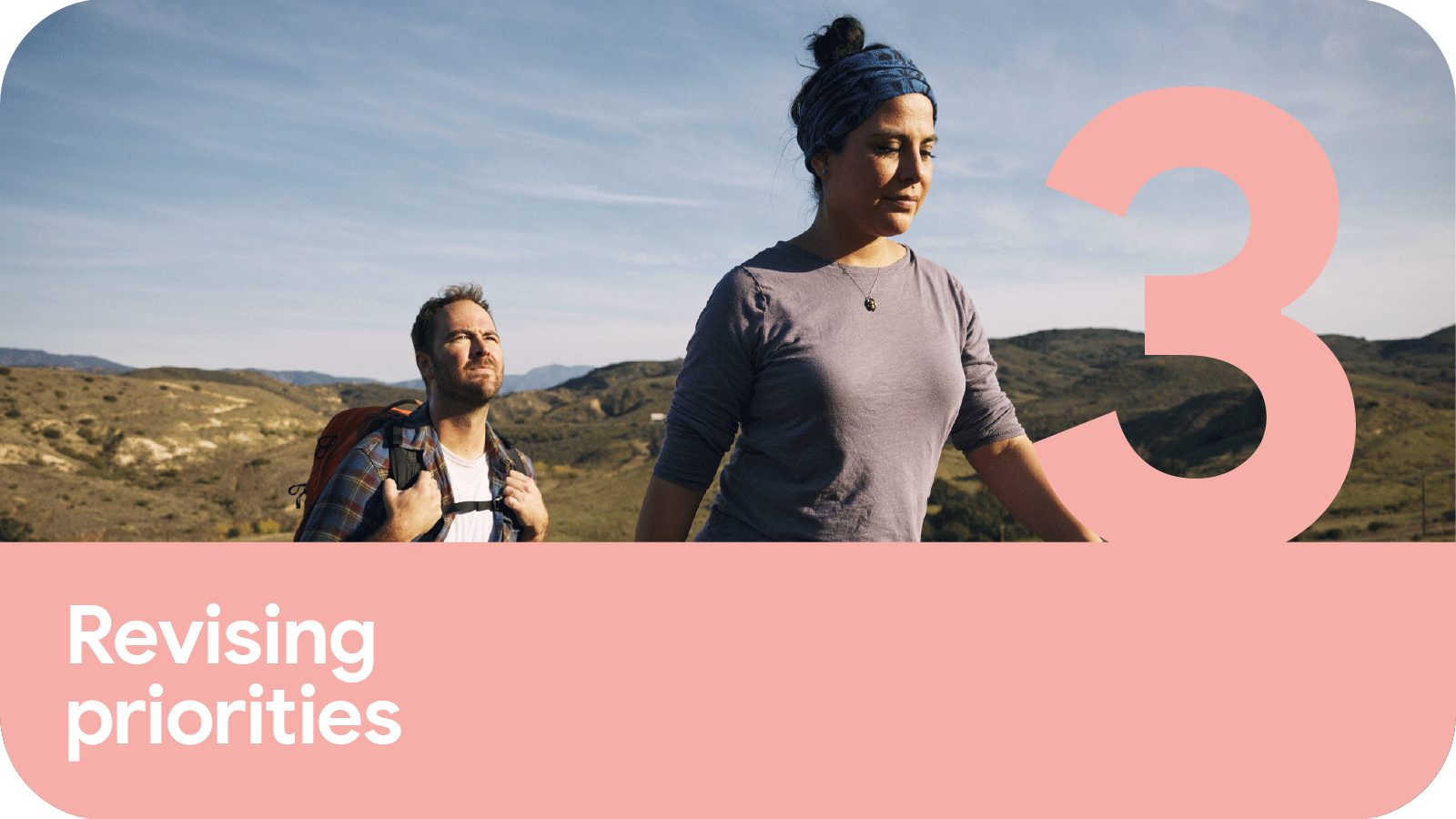 Lety Soto, 40, small-business owner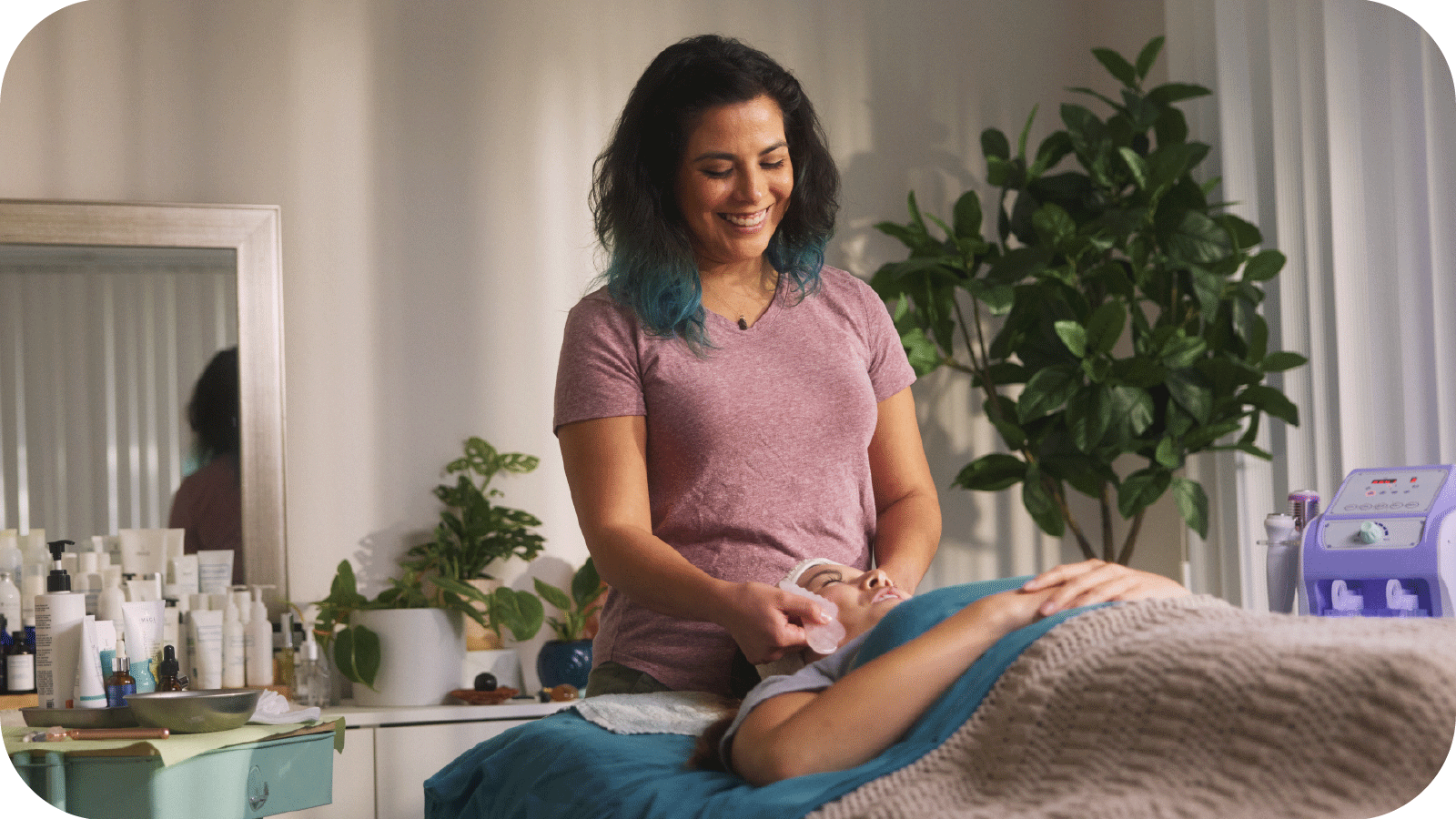 As a wellness and skin care expert with 20 years of experience, Lety Soto understood the intricacies of stress management, including signs of burnout. So when she noticed them in herself, she realized she needed a plan.
Starting her own business proved to be the ultimate healing journey.
Soto used online tools to find trainings, classes, and areas of opportunity in her local community. Since opening Myself Mind & Body, she has continued to upskill and find inspiration for new wellness services.
"All of this has become even more important in the last six months as I have been focusing on my reach and growing my small business," she said. Though running a business is hard work, the pivot has given her more control over her time. She and her husband now have more daylight hours to spend hiking and kayaking with their two rescue dogs.
We strategized before making major purchases
As the economy recovers, so do personal budgets. In fact, spending proved resilient over the course of the year. Services spending even increased by 2.8% in the third quarter of 2022, as Americans spent more on food services and accommodation, health care, and transportation.
With an eye toward the future, people proactively researched purchases well in advance, with U.S. search interest for "best time to" rising 25% year over year (YOY),1 and "car prices," including "when will car prices drop," rising 30% YOY.2 On the other hand, U.S. search interest for "luxury travel" rose 175% YOY3 as pent-up demand was released. Similarly, U.S. searches for "spa day pass" rose 65% YOY,4 and searches for "michelin star restaurants" rose 55%.5
"Overwhelmed by an abundance of information and unlimited choices, consumers oscillate between exploring and evaluating their options," said Charlotte Will, director of ads product marketing at Google. "It's no surprise that the purchase decision can take months or even a year. Layer on top of this convoluted purchase journey today's economic uncertainty, and you get a level of complexity and dynamism that exceeds the ability of any manual approach."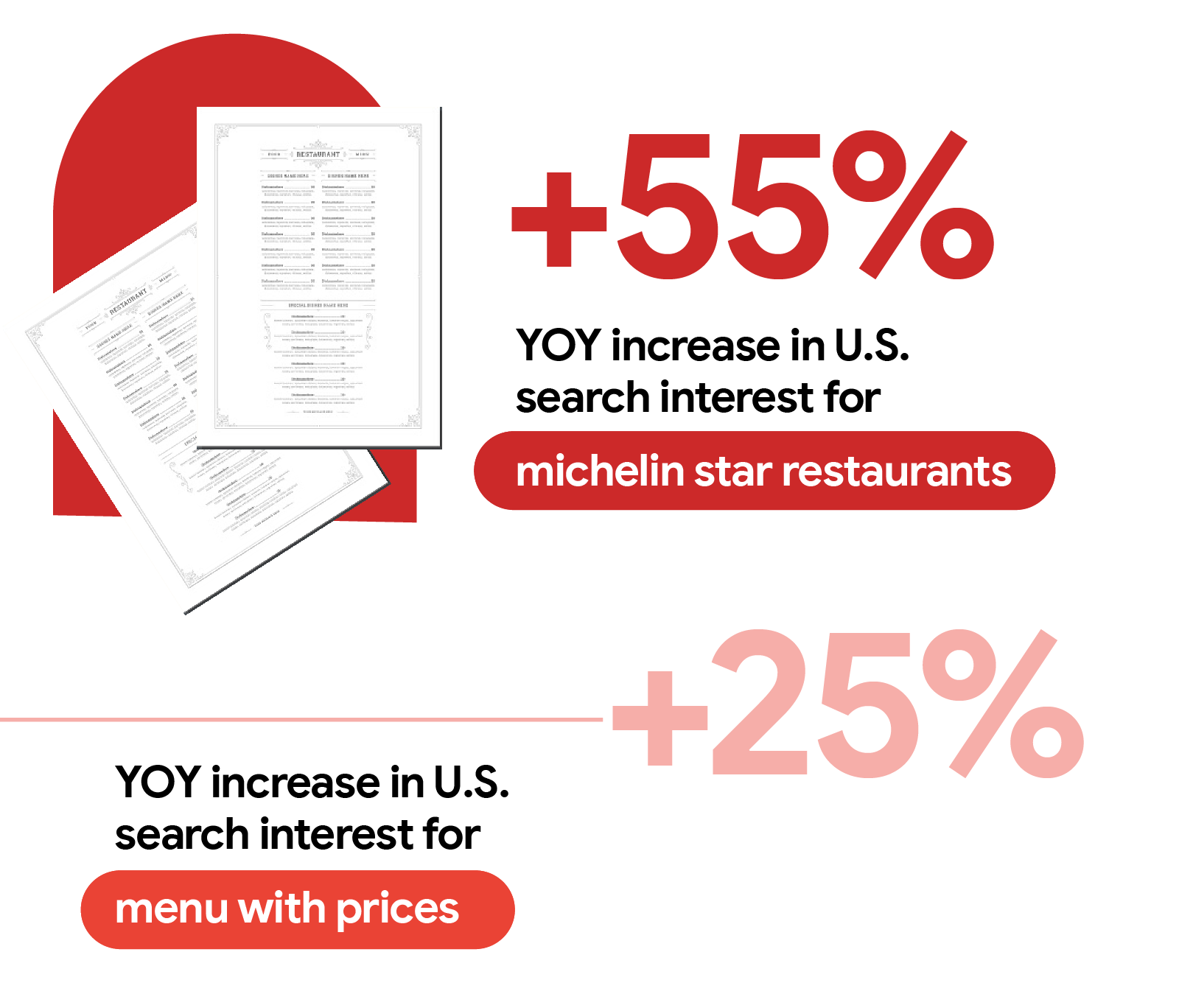 Rothy's made the same discovery this year. The shoe and accessory retailer used Performance Max campaigns to multiply its team's expertise and reach customers with tailored messaging at scale — a strategy that allowed it to stay on top of rapidly changing consumer trends.
"When you pair your brand story with AI, you can keep pace with this constantly evolving complexity," said Will. "AI-powered advertising solutions allow your brand message to flex to the shifting environment and to reach new unexpected customers as they enter these phases of discovery and exploration. Tools like broad match are able to tie keywords back to human intent at scale, helping brands find opportunities as they emerge."
We sought healthier relationships with our work and careers
According to McKinsey, 89% of employees desire a sense of purpose at work, underscoring that what some have been calling the "great resignation" is really more of a reassessment of priorities. Companies have a role to play in making sure employees have opportunities to grow and develop new skills, and to protect their work-life balance.
U.S. search interest for "online side jobs" and "side hustles" grew 75% YOY6 and 65% YOY,7 respectively. At the same time, rising U.S. search interest for "working for long hours" (55% YOY)8 and "from home jobs" (40% YOY)9 highlighted concerns over physical health and the need for flexibility.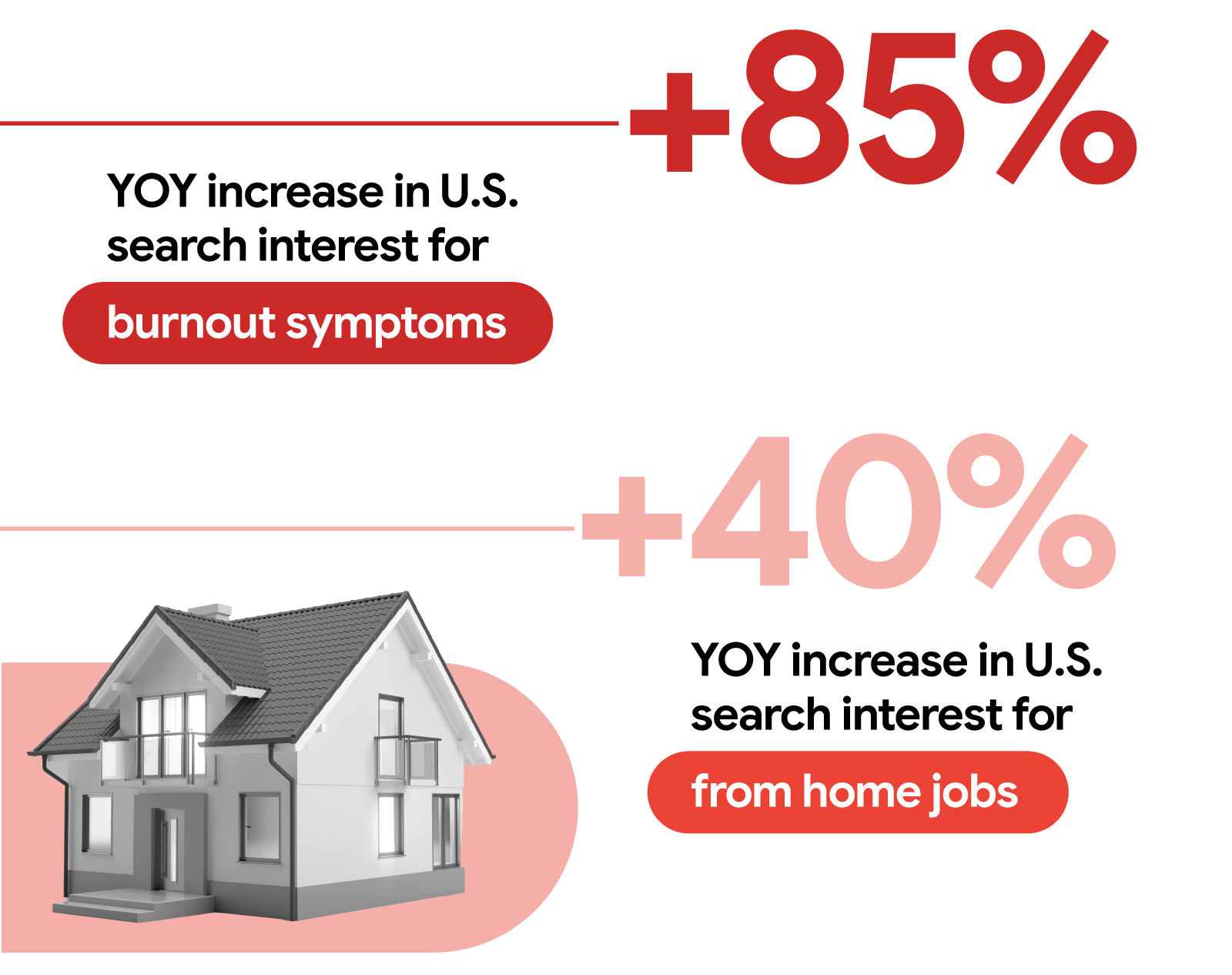 "Burnout"-related search interest rose by 20% YOY in the U.S.,10 while U.S. search interest for "best work," such as "best work from home chair," rose 30% YOY.11 Though indicative of different needs, both terms signal potential demand for flexible and hybrid work options.
"A lot of companies are trying to convince people that things need to return to normal for the good of both company and employee. But there is no normal anymore," said Lewis Samuels, senior research and insights manager at Google's Global Insights Lab. "We're living in a post-normal era, and employees have largely rejected the notion that one size fits all when it comes to work culture. Part of celebrating diversity and creating a culture of belonging means celebrating the different approaches that employees will have to working itself."
How brands treat their employees is a proxy for how they treat consumers.
Using economic uncertainty to justify increased control is "unlikely to lead to positive outcomes for the companies," added Samuels. Equitable company policies send a message to employees and, by extension, audiences.
"How brands treat their employees is a proxy for how they treat consumers. Both employees and consumers need to feel respected for a brand to flourish," said Samuels. "The best way to support employees is to respect them as individuals and recognize that they have individual needs."
More of us are exploring virtual spaces and experiences
Virtual spaces are no longer just for gamers. More and more U.S. adults are enjoying the utility and ease of these technologies when it comes to shopping. For example, U.S. search interest grew YOY for "3d modeling software" (45%),12 "virtual store" (25%),13 and "virtual world" (25%).14 This combination of trends signifies an openness to 3D experiences, some of which feature products that exist in real life.
"Virtual architecture can be the digital twin of a real-life store where people can browse without the friction of in-store shopping," BrandLab360 co-founder Dan O'Connell told Think with Google.
Meanwhile, U.S. search interest for "virtual assistant job" rose 55% YOY,15 hinting at the potential of virtual technologies to expand access to employment and other opportunities.
Virtual architecture can be the digital twin of a real-life store where people can browse without the friction of in-store shopping.
"Conversations on social media around accessibility, and AR and VR, are up by 43% YOY,"16 said Sam Cooper, social insights manager at Google. "This means that there is greater attention being paid to how brands are or aren't designing AR and VR technology for the disabled community. As brands lean more into virtual and augmented reality space, it will be imperative to make sure that the future of technology is accessible to all."
In 2023, expanding access will be an important part of innovation
Hybrid work environments have brought benefits for people with and without disabilities. Meanwhile, people are doing more research to find experiences better suited to their needs. Companies can help by easing that process.