Connecting with consumers today means creating experiences that enrich their lives. Here, Grace Liau, head of media for Google Asia-Pacific, breaks down how her team has focused on personalization to deliver more meaningful and engaging digital campaigns in today's cluttered world.
Today's consumers are savvier than ever. They know what they want and will research to figure out what they're looking for; it's easy when you have the world at your fingertips. All this means that, for us marketers, our role has also evolved. Great marketing has always been about understanding and solving our users' needs, engaging them, and harnessing the right medium to deliver the right message to the right person at the right time. Today's lightning pace calls for renewed approaches, and personalization plays a critical role.
To be successful, marketers need to understand the role of every media channel and how they intersect. Here are the five guiding principles my team and I abide by:
1. Put the consumer first
As marketers, we often get wrapped up in the message. But the best marketing doesn't revolve around brands—it's about improving the lives of our consumers. To do that, we need to start with the right consumer insight.
Traditional research methods are still grappling with long lead times and smaller sample sizes. That's where digital offers unique opportunities: Google Consumer Surveys offer focus groups on the fly, and Google Trends provides instant access to data and insights. Both provide a better understanding of what makes audiences and markets unique and confirm our hypotheses about our consumers' interests and intent. Measurement tools such as Google Analytics, YouTube Analytics, and Firebase help gauge the impact from our campaigns and answer questions such as, "What are people responding well to?" and "How can we improve the user experience?"
When we built the #LookBeforeYouLeave campaign for Google Maps in India, we found that being stuck in traffic was a common occurrence due to unpredictable monsoons or festivities such as weddings. Most commuters weren't aware of the real-time traffic feature that would forewarn of road conditions and provide alternate routes. This led us to our campaign goal of driving awareness by prompting commuters to check for live traffic updates in Google Maps before hitting the road. The result: a 40% growth in daily active users, and, more importantly, we made people's lives easier.
2. Know where consumers spend their time
In the past, marketers had limited channels to communicate their messages. While that's changed, the new challenge has become this: "What's the best channel to reach the right consumers?"
In much of the Asia-Pacific region, mobile is quickly replacing TV as the primary screen for video. It's also where people turn for guidance on their spending decisions. The average consumer uses four online touchpoints prior to making a purchase, meaning it's more important than ever for Asia-Pacific marketers to make digital an integral part of their strategy.
For example, when we launched Tez, a mobile payments app, our top priority post-launch was driving downloads and user transactions. By deploying a Universal App Campaign with referrals and incentives, Tez quickly achieved 350 million transactions. By understanding how people interact with each channel, you can put your budget to work in the right places to ensure the most engaging and relevant experiences.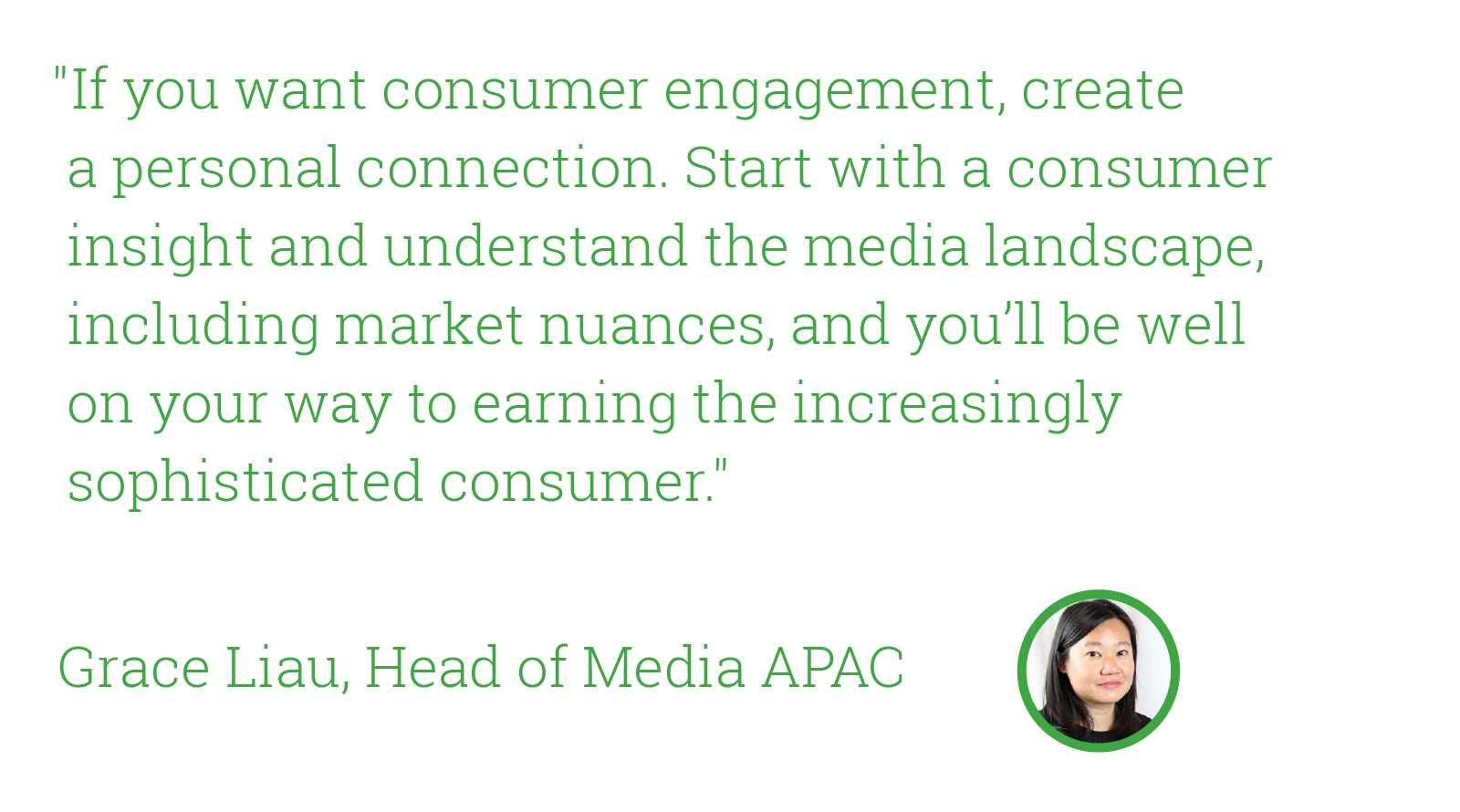 3. Develop personalized creative at scale
In the past, consumers' perceptions were largely shaped by one-way messages, but now consumers are in the driver's seat. Technology has bridged consumers and brands, and they're embracing brands that are the most relevant and personalized to their needs.
If you want consumer engagement, create a personal connection. Start with a consumer insight and understand the media landscape, including market nuances, and you'll be well on your way to earning the increasingly sophisticated consumer. The beauty of putting digital at the core is that the real-time insights help us understand what ticks in each market, offer us customized creative at scale, and let us make real-time adjustments based on cultural context and trends.
When we launched Google Home in Australia, we wanted to show locals how it could be used in their everyday lives through personalized use cases. We built a dynamic six-second video campaign on YouTube with Director Mix to serve custom ads to parents based on how they spend their downtime. For example, music lovers were shown how Google Home will play their favorite playlist, while foodies who frequented cooking tutorials were shown how Google Home helped search for ingredients hands-free. By transforming one video concept into over 100 different creative variations, we drove an 11.3% lift in awareness, a 10.2% lift in consideration, and an 89% increase in related searches among young Australian parents.
Experimentation becomes the new order, creating opportunities for us to break from the standard and take calculated risks. With consumer insights, we can better understand how to reach consumers in a memorable and respectful way.
4. Test, test, and test again
In an ever-changing media landscape, a key challenge is gauging a campaign's impact. Experimentation becomes the new order, creating opportunities for us to break from the standard and take calculated risks. With consumer insights, we can better understand how to reach consumers in a memorable and respectful way.
Digital campaigns allow us to test creative variations, see people's responses, or figure out the most effective channels before going to market. Game-changing tools—including drafts and experiments, ad variations, and piloting A/B testing with Geo Experiments—have not only let us remove audience stereotypes but also boost our chances of delivering a message that resonates.
Of course, you don't have to experiment on big ideas; testing small things can also have a notable impact, as we discovered in our Google Maps campaign. For example, we simply tested whether a static, one-second branding image at the start of our video ad would affect awareness. Brand Lift surveys showed that the upfront branding drove an average 10% lift in awareness in several key regions, so we optimized by revising the video sequencing.
5. Tell a consistent story
People today don't consume information in silos. Rather, they do so across platforms, devices, and screens. That's why a brand's storytelling has to be consistent at every touchpoint to be effective; no one wants to jump into a story mid-way through, or hear the same part on repeat. But the irony is that many advertisers are still working in silos, with brands, creative agencies, and media agencies each working towards different objectives.
One of the biggest opportunities for efficiency is to approach the campaign holistically. For instance, during media budget allocation, why split your brand and performance media dollars when consumers ultimately view them as a single campaign?
To centralize and connect experts in media technology, insights, and creative, we introduced an internal creative incubator. This level of teamwork helps ensure that everything from audience insights to media buys are considered from one vantage point and influence every piece of creative. By collaborating internally, marketers can tell a better story and see better responses—80% of the work has resulted in an awareness uplift for our products.
Using digital marketing to make a meaningful impact
Insights from digital have helped us understand so much more about our consumers and, in turn, have transformed the way we approach our own campaigns. We have learned where our customers are and where they have chosen to engage with us. The best marketing starts and finishes with consumers' interests at heart, and the prevalence of digital will continue to give us more opportunities to have a meaningful conversation with them.