In the third podcast of our Think Travel: Leadership Circle series, Hermione Joye and Pulkit Lambah sat down with travel industry leaders from AirAsia Group, Tiket.com, and Klook to discuss how they've evolved their business strategy during the pandemic to focus on apps and digital engagement.
Listen to their full chat on changes in traveler behavior trends in Asia-Pacific (APAC) on Spotify and Google Podcasts.
Travel apps are becoming more important in APAC despite the slowdown in international travel. Companies looking for ways to help people with contactless travel during the pandemic have found apps to be crucial: they let travelers carry out essential tasks and can serve as digital vaccination passports.
To find out how travelers' app usage is evolving, Google partnered with Kantar to survey 6,000 people from six markets in APAC. We shared the findings in a recent podcast, and leading regional travel brands joined us in the discussion to speak about how they've been acting on these travel industry trends to better engage with people.
Here are three key takeaways from our chat on why travel apps are essential and what makes them successful:
Apps turn phones into mobile passports
"This pandemic changed the game quite a bit. Right now, almost everyone is forced to shift to digital in every situation. But that's because almost everything is on mobile now, and that's a huge reason why mobile apps are so important these days." — Gaery Undarsa, co-founder and chief marketing officer at Tiket.com
People generally prefer using travel apps over websites, especially in emerging markets. In our research, we found that 58% of people across APAC prefer to engage with travel brands using an app, and in Thailand, India, and Indonesia, this preference was higher, at 67%.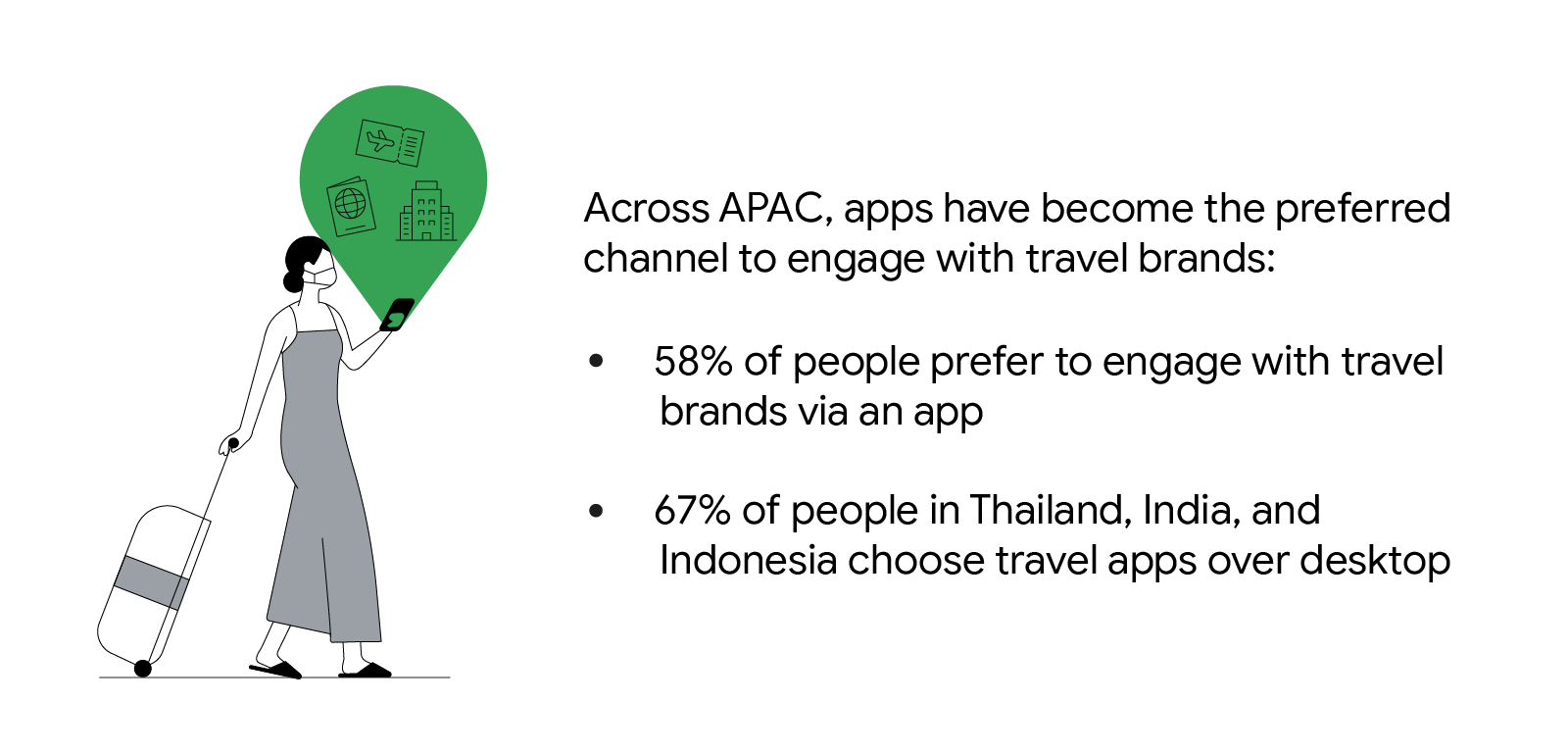 We're also starting to see this app-first behavior in markets that were historically desktop-first, such as Japan. People said travel apps are more convenient to access on their phone, are more likely to have better deals and promotions, and are easier to browse for travel ideas compared with mobile websites.1
At the same time, COVID-19 travel restrictions and policies are accelerating travel app usage and digital transformation in the travel industry. Apps have replaced in-person interactions at travel agents or country borders — 36% of travelers in APAC and 46% of travelers in India, Indonesia, and Thailand said that they engage more with apps for safety reasons. In the last 18 months, app performance and features have improved, with the integration of important travel details such as vaccination status or passport information.
With this rapid adoption of apps, brands are seeing people use phones as if they were mobile passports. "Government subsidy or verification of vaccination status now appears on mobile apps, and that has really shifted consumer behavior," said Wilfred Fan, chief commercial officer at Klook. "People now see their mobile device as a pass, a permit, a certificate, or as something that they just have to use."
To keep up with these changing travel app trends, brands have started adding new features to their apps. AirAsia incorporated a health passport into their app, while Tiket.com launched Tiket To Do platform where travelers can update their vaccination status and other important health information.
Be the first to reach out through your app
Our research also showed that just because people install a travel app, it doesn't necessarily mean they'll use it.
In APAC, 83% of people have a travel brand's app installed on their device. However, only 61% of them have actually used the app at least once, and only around 36% use the app regularly.
A positive first experience, and continued usage, are two factors that have the highest impact on positive brand affinity, loyalty, and advocacy.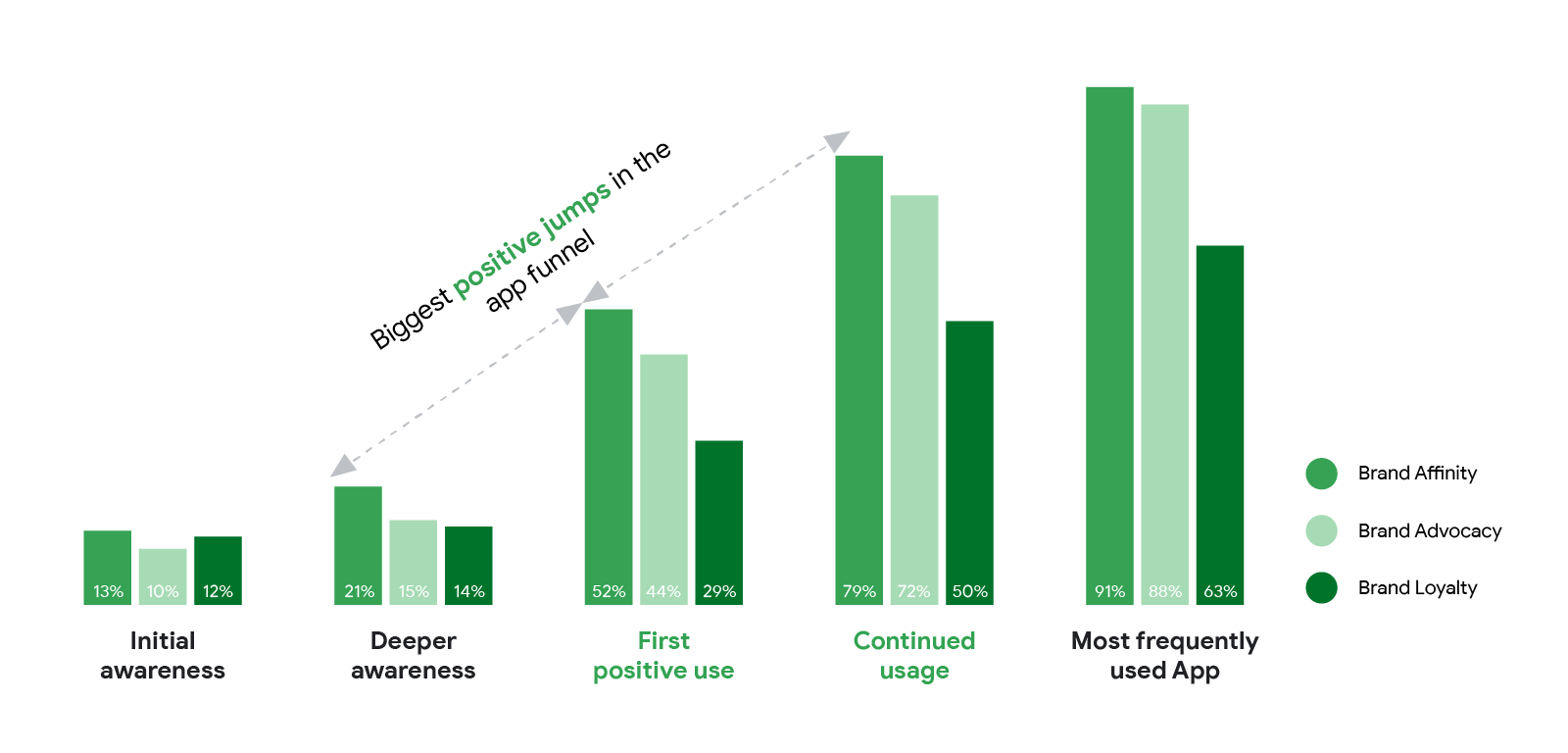 For 23% of respondents, the top reason they haven't used an app installed on their phone is that they're waiting for discounts and promotions.2 According to Klook, people, especially millennials, need a nudge like a special offer on a brand's homepage to engage with an app. Fan said, "Millennials' app usage is a bit more spontaneous, and quite often, we need to put something in the forefront for them to see." Accordingly, Klook's app offers recommendations, special deals, and information on interesting things to do.
Learn more about how AirAsia, Tiket.com, and Klook are driving usage of their apps:
People prefer all-in-one apps with lots of functions
When it comes to downloading and using an app, 67% of travelers prefer an app with various functions rather than many single-purpose apps.3 The top activities performed in travel apps are comparing prices, making bookings, looking for discounts, and browsing photos of travel destinations.4
With the rise of app usage, trends are also emerging around app activities. People now want to watch video tours of hotel rooms, take part in virtual experiences, and watch live streams of activities such as walking tours around popular travel destinations.
The pandemic has revealed a demand for app features such as flexible booking management systems and COVID-related information.
Travel industry experts on our podcast recommended that travel apps be all-in-one and have functions that cover people's needs across their entire travel journey. Indeed, the top reason people gave for continued usage of a travel app was that it had all the features they needed.
The user experience of a multi-function app, however, is important. "When you have more and more things to sell, it's quite challenging to make a user journey that is actually seamless, that actually captures every need and want of the user," said Aireen Omar, president of AirAsia Digital. The brand is currently working on a personalized app experience where people receive information that caters to their interests.
As digital transformation in the travel industry accelerates, the way people interact with travel brands is evolving. Travelers now prefer apps — we've also seen a preference for apps in the retail sector — so travel brands need to make apps the focus of their marketing strategy.
As Undarsa said, "Sometimes brands just try to do everything. If you need to choose, especially in the beginning, just choose one. If you need to choose, choose apps. And that's it."
Listen to their full chat on changes in traveler behavior trends in Asia-Pacific (APAC) on Spotify and Google Podcasts.