APAC, a mobile-first region, accounted for over half of global app revenue in 2016.
In countries like Malaysia and Indonesia, phone penetration is 2X that of PCs.
Only 2.5 of 35 apps on an average user's phone are paid apps.
The four keys to app monetisation are: get discovered, get installed, stay installed and delight the user.
High-quality photo editing. Translations. Niche games. Personalized workouts. You name it, there's an app for it in APAC. That's true the world over, but the difference here is the incredible scale of the region: APAC accounts for over half (53%) of all global app revenue.1
What's driving this outsized app spending in APAC? First and most obviously, we're a mobile-first region. And the trend is only set to increase: a billion new people are predicted to come online in the next few years—and most of them will be doing so with a smartphone in hand instead of a laptop or desktop at home.2 Already in countries like Malaysia and Indonesia, phone penetration is more than 2X that of PCs.2 In India, this is even more pronounced, with phone penetration (feature phones and smartphones) nearly 6X that of PCs.2
Another big indicator that app mania is growing in the region is that app usage has exploded beyond just social, messaging, and games. Top categories of apps in the region reveal that users have grown to trust and use banking, finance, shopping, and educational apps.3 They rely on transportation and location-based apps.3 And they're making health and fitness apps part of their wellness routines.3
Securing precious real estate on mobile phones
Paid apps face a challenge. If you're like the average APAC user, you have about 35 apps on your phone. Of those, only 8 are likely to be used daily. And out of that small handful, the number people actually spend any money on is about 2.5.3 Just because an app is on someone's phone screen, there's no guarantee they're using it regularly or willing to spend money on it.

The hard truth for developers is that for every successful app out there, there are dozens—if not hundreds—of others that failed to find their audience or continue engaging them. Here are four strategies to help you win in the app business by increasing your daily average use as well as being monetized:
1. Get discovered: Encourage existing users to recommend you
Even if you have the most amazing app in the world, it's destined to fail if nobody's aware of it. The top ways people discover apps are by recommendations from close friends and family followed by searches in app stores and social networks.3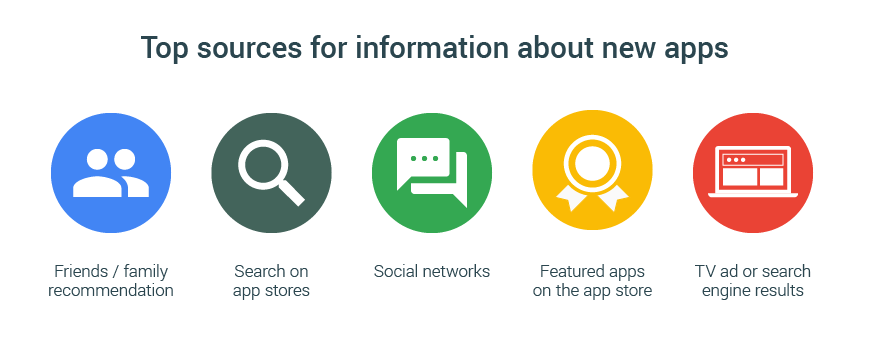 So, the most effective way to grow your app is to encourage and incentivize your current users to recommend it. Some of your users probably love your app, so giving them a little nudge or reason to share that love is probably your best discovery strategy.
When prayer reminder app Muslim Pro launched in 2010, its creator—a French entrepreneur living in Singapore—thought that its users would come mostly from Indonesia, the world's most populous Muslim nation. But after a few weeks he realized the app was rapidly gaining traction in Western countries with strong Muslim minorities. Thanks to recommendations from the Muslim community, France, the U.S., and Germany are still among Muslim Pro's top ten countries with the most active users to this day.
2. Get installed: Know what matters to users
Once someone has heard or read about your app, there are a range of factors still at play before they install.
a) App size: Many entry-level smartphones in the region have storage and memory constraints,3 so keep your app light to prevent it from being uninstalled during the next memory space crunch.
b) Cost of the app: How much does your app cost? If you're charging an upfront install fee, consider the competition and what value your app offers before asking a user to pay.
c) User reviews: As much as negative user reviews will hurt you, great reviews can help reassure potential users your app is worth a shot. Common factors raised in user reviews—stability of the app, customer support, and general ease of use.
d) App rating: User reviews will greatly influence your app's rating on the app store. Your app rating is among the first things a potential user sees when he or she visits your app store page and having an app rated "2 stars" versus "4.5 stars" can make all the difference.
It's important to note the differences between various regions. For example, while APAC consumers will consider how economical an app is in terms of space and cost before installing, consumers in more evolved markets like the U.K. or U.S. may instead prioritize factors such as security and privacy.

Hong Kong-based free portable wifi hotspot app Swift Wifi understood what the APAC consumer valued and built two different versions of their app: a lite one that took up less space on phones for emerging markets and a premium one for developed markets that value a superior experience. Android users appreciated this along with how easy and useful the app was, resulting in a 4.4 star user rating on the Google PlayStore and hundreds of positive user reviews.
3. Stay installed: Continue to be relevant
APAC developers need to take extra care to make sure their app remains relevant. With space at a premium, users are more likely to go through their existing apps regularly to make room for new apps.3 Along with space, your app will be on the chopping block if it hasn't been used in a long time or if users find a better app that does the same job.3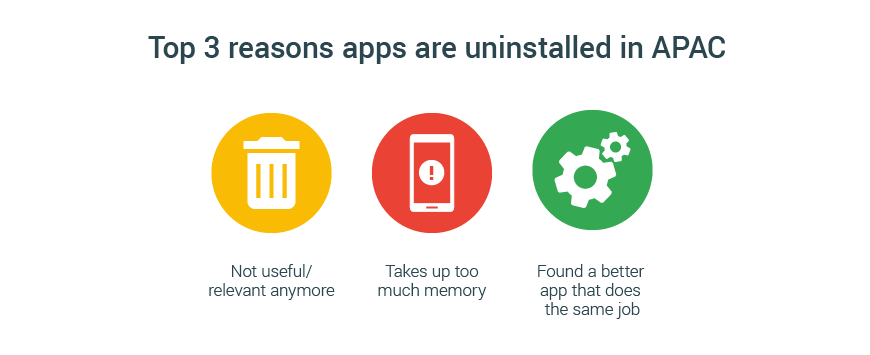 Evolving with your audiences' needs will help keep your app phone-worthy. Make your app more relevant and keep adding new features while removing those that may have flopped or just became unnecessary—and remind your community about these upgrades.
Chinese app Meitu has gone from strong to stronger since launching in 2008. What was once just a selfie-photo taking app that removed blemishes and adjusted skin tones now boasts a full powerhouse suite of selfie-enhancing products. By adding features like video editing, virtual make-up designs, and new photo filters, and even launching new smartphones designed to take the perfect selfie, it has turned Asia's obsession with taking selfies into a billion dollar business that has since IPOed. The app's success is a direct result of Meitu paying attention to what works and adding features that continue to delight its users.
4. Delight them: Be easy to use and personal
Our final strategy for winning over users in the app business is related to why there's an app business in the first place. Your app needs to be a better mobile user experience than using the web. This is why the app economy is booming, and the two main reasons people say they strongly prefer apps to the web are ease-of-use and personalization.3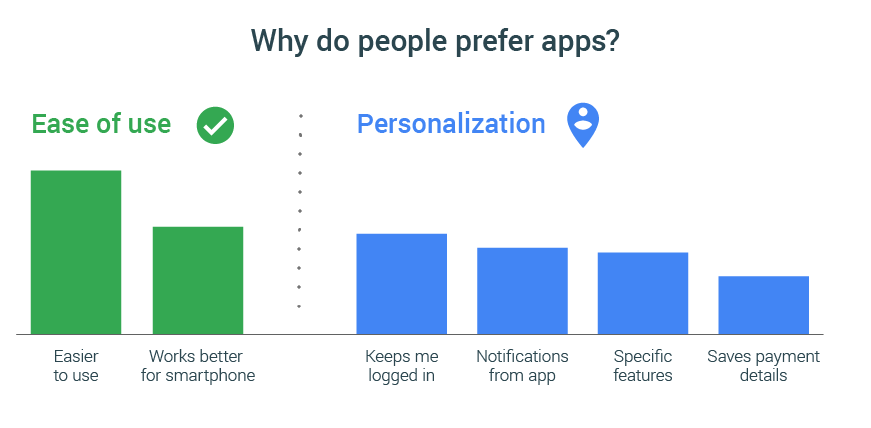 "Simpler, better, faster" are what users look for in apps compared with doing similar tasks on the web. If an app remembers users' log-in information or payment data so they don't have to keep entering it repeatedly, your app is succeeding in making their lives easier (and probably preventing a move to a competitor where they have to build a new profile). The personalization benefit really shines in shopping apps, so if you're in the e-commerce space, be sure to pre-populate shopping carts for repeat orders and highlight deals on frequently bought products. If you don't, you'll probably disappoint the 44% of users who expect them in their shopping apps.3
Muslim Pro is another example that continues to double down on personalization features. For example, it now offers customizable visual and audio notifications for prayer times, halal restaurant suggestions and mosques near you, and even an animated compass and map to show your location in relation to Mecca.
Becoming inseparable
With millions of people coming online in APAC for the very first time and discovering apps for the first time, the opportunities for app developers have never been more exciting. If you focus on their needs and use these four strategies, you'll have a better chance of becoming an indispensable part of their daily lives and be one of the few golden apps on their phones that are there to stay.