Our 2015 report on the state of mobile app usage in APAC was so popular, we're back at it again with updated data, fresh insights, and new countries added to the data set. Asia (in particular Southeast Asia) is one of the most mobile-driven regions in the world, so this year we also included Malaysia, Thailand, Vietnam, the Philippines, as well as mainland China.
To ensure consistency with the 2015 study, we kept methodology the same, partnering with TNS Australia to survey 10,000 smartphone users ages 18–64 in ten different countries. Last year's trends held up, and we found that Asia continues to dominate the app world. Smartphone penetration is higher than desktop penetration in many Asian countries, and in several countries, people spend more time in app usage than on the mobile web. So it follows that Asia is the world's number-one region for app revenue—and that revenue is only expected to increase in the next five years.1
Mobile App Forecast, Annual Gross Revenue

Apps drive massive revenue potential and they're great way to connect with loyal customers, so traditional and digital brands need to act on this shift now.
In this piece, we'll discuss the overall app landscape and what's changed since last year before moving into a detailed look at mature markets and then at the developing markets. We'll highlight and explain key factors of the app landscape in each country, including app usage and popular app categories.
Overview: What's changed from last year
One of the main things we looked at was smartphone penetration and the average number of mobile apps installed by country. Here's a look at how 2016 compares to 2015.
Smartphone Penetration & Number of Apps Installed by Country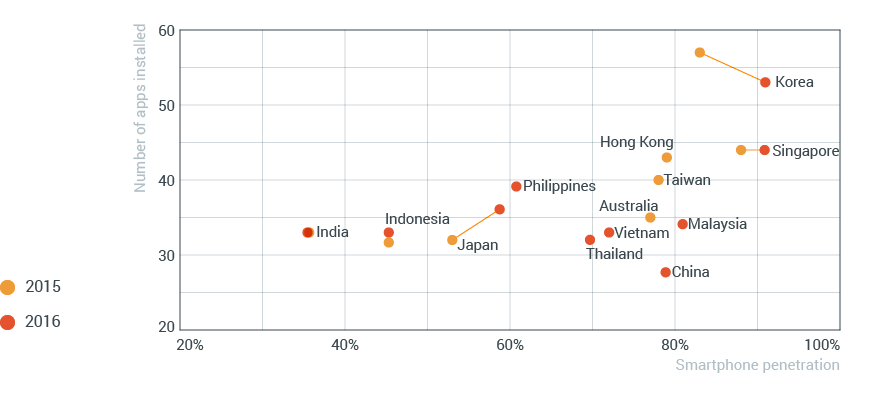 Some things haven't changed since last year: Korea is still on top of the app world, with Singapore coming in second. India and Indonesia continue to have the lowest apps installed and the lowest smartphone penetration, possibly due to the prevalence of low-spec devices with limited memory and relatively low supply-side pressure.
Japan saw a decent increase in average number of apps installed: from 32 in 2015 to 36 in 2016. Historically a feature-phone-centric market, Japan's smartphone penetration has lagged behind other Asian markets. Now that its smartphone penetration has reached 59%, it's mobile usage behaviors are maturing, leading to more app downloads.
The new countries in the study generated some interesting findings. Thailand and Vietnam, for example, have high smartphone penetration but low average installs. We've seen that in early app markets such as these, users tend to spend longer periods in each app, and they focus on a few social and messaging apps. It's also likely fewer apps are available for download in new markets like Thailand and Vietnam. The Philippines, on the other hand, is also considered a new market but averages much higher installs, possibly due to the larger number of local apps available in the country.
China was another country we added to this year's study. Smartphone penetration is lower than other countries, but because of its population, the number of smartphones purchased in the country is massive. China's huge user base and large number of local Chinese app stores (powered by local giants like Baidu, Tencent, and Xiaomi) make it unique among all the countries in the study.
A closer look at the mature markets
Smartphone penetration and number of apps installed
Korea still reigns supreme as the top app market in the region. Although Korea's user base may have plateaued (it's likely close to its ceiling for smartphone penetration, and its number of apps installed fell from 57 on average last year to 53 this year), there's still plenty of room for time spent and frequency of app usage to grow in Korea.
Koreans in particular love messaging apps. On their own, Korean users spend almost half the amount of time on social and messaging apps as the total usage from all the Southeast Asian countries combined.
Meanwhile, Singapore is a much smaller market, but it continues to have high customer usage numbers and sophisticated attitudes towards apps.
Japan ranks second in the world when it comes to iOS app store revenue, and the land of the rising sun has significant headroom for growth in smartphone penetration and number of apps installed. Smartphone penetration in Japan will continue to grow past current levels, which means it's also likely to increase its number of total app users.
iOS App Store Revenue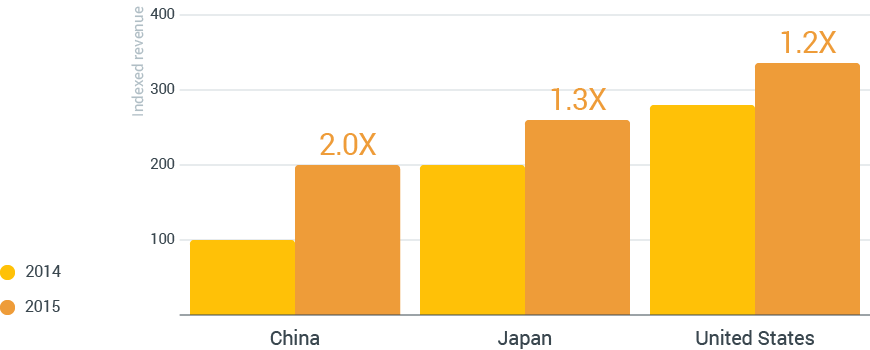 App usage
When it comes to app usage, most countries in APAC use apps most often for social networking and messaging. In Japan and Korea, however, people more commonly use apps to find relevant information through Search and News apps.
Top Three App Categories Used Daily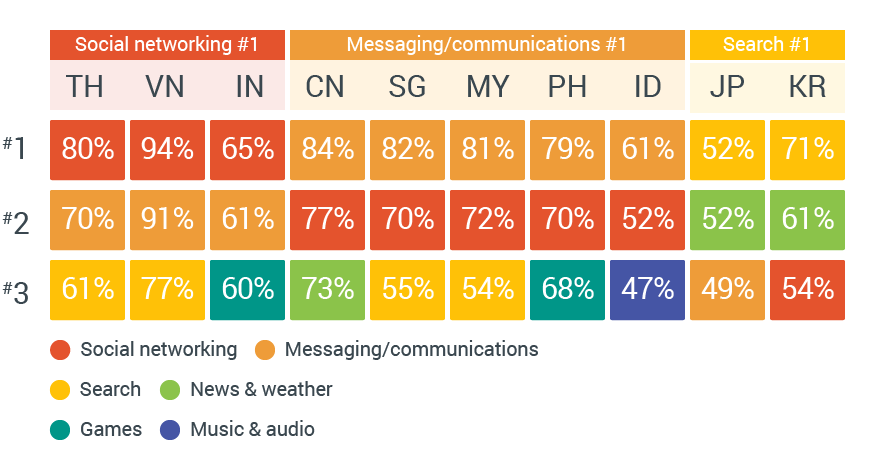 In Japan in particular, we've seen rapid growth in the app developer ecosystem, with usage increasing accordingly. Japanese consumers have used Search and News apps since the early days of smartphones, and they've always been amongst the biggest spenders on Gaming. Now, messaging apps are starting to gain traction in Japan.
YoY Change in Daily Usage Rate by App Category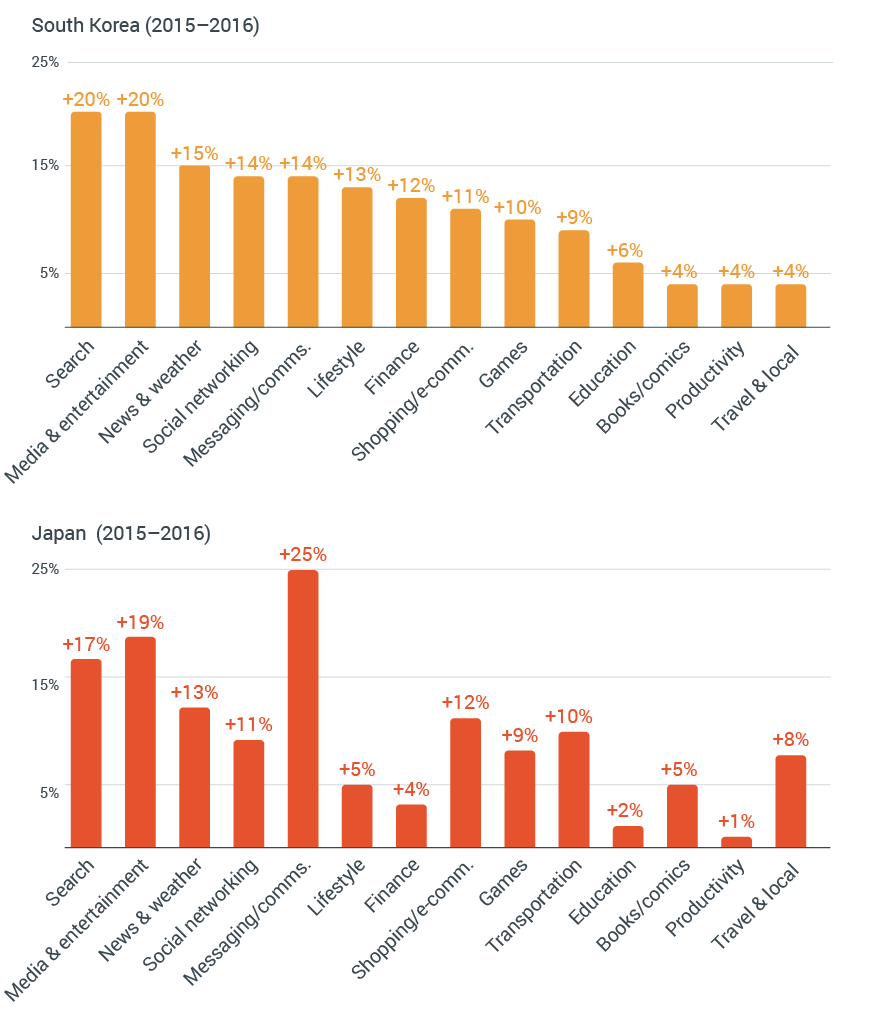 The daily usage rate has increased in all app categories over the past year. The largest increases in Japan were in the Messaging category, largely driven by LINE's increasingly strong market acceptance and popularity. In Korea, the big increase in Lifestyle and Finance apps indicates how immersed apps are to people's social lives.
An eye on less mature but high-potential markets
Smartphone penetration and number of apps installed
While smartphone penetration in Malaysia, Vietnam, and Thailand is growing, the number of apps installed in these countries is still relatively small. This is presumably due to low-spec devices with limited memory and functionality.
India and Indonesia are rising mobile-first markets. They have lower smartphone penetration and lower number of apps installed than other APAC countries. However, their large populations represent massive potential, and they should be considered when putting together any marketing plan.
App usage
Social and Messaging apps are used more often than any other category across the less mature markets. In these countries, smartphones are people's primary—and often, only—device to access the internet, and these communication apps are deeply ingrained in their everyday lives. This is especially true in China, India, and Indonesia, where respondents told us that their smartphones are highly important for social engagement.
Time Spent on Social and Messaging Apps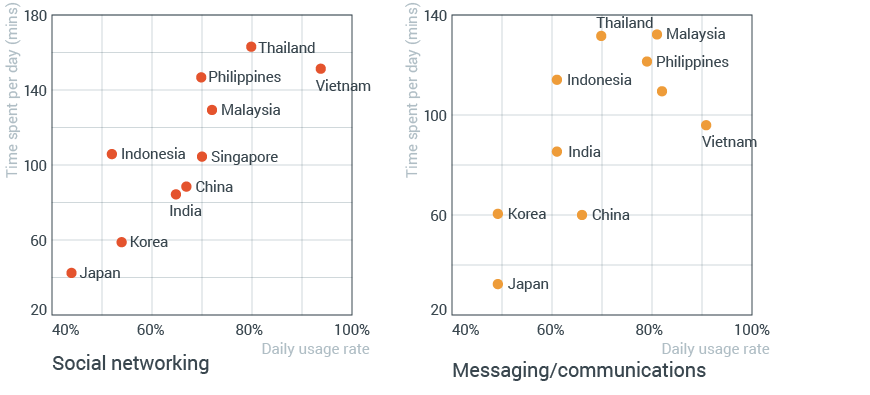 In the new countries we surveyed, Malaysia, the Philippines, Thailand, and Vietnam, people use Social and Messaging apps on a daily basis and spend much longer time on them than people in Japan and Korea do. This behavior appears to be tied to countries that are predominantly mobile-only.
Interestingly, Social and Messaging apps in Southeast Asia are often used for "peer-to-peer" buying and selling. Many small- and medium-business owners do business exclusively on these communication apps. They use them to promote goods, take orders, and make payment arrangements.
What the new app economy means for marketers
With people in APAC spending more and more time on their smartphones immersed in apps, brands have countless opportunities to engage and connect. Apps are a unique way for brands to build deeper relationships with always-on and more loyal customer bases.
Think about the core benefit your brand offers and how that might lend itself to a mobile app or enhanced mobile site. When you understand when and why customers look to interact with your brand, you can create an app that builds brand love and gives customers what they really need.
Methodology
Google partnered with TNS Australia on custom research to uncover insights about mobile app user behavior, including attitudes toward apps and app usage. In April 2016, an online survey was conducted of 10,000 smartphone users across ten countries, ages 18–64. All respondents were screened to ensure that they had used smartphone apps in the past seven days prior to the survey as well as apps from various categories in the previous 30 days.