As diverse as the countries in APAC are, one thing everyone seems to agree on is that the end of the year is the time to gather with friends and family, look forward to the year to come, and shop our hearts out. As APAC shoppers ramp up their smartphone usage as the year winds away, your brand can be right there with them.
As the year winds down in APAC, smartphones are now just as prevalent as Christmas brunch and skylines lit up with Santa and Rudolph. Well over half of the adult population already owns a high-end device, and smartphone purchases peak in Q4 every year.1
As smartphone penetration improves, so does daily usage. On average, APAC users spend 2.7 hours every day using their smartphones2—and they turn to them in crucial moments to browse, shop, and buy. These massive increases in mobile ownership and usage mean brands have unprecedented opportunities to reach and connect with APAC consumers around the holidays.
Mobile can be a marketers'—and Santa's—little helper this holiday season. Here's what your brand needs to know.
Shoppers often begin their journeys with mobile video
Whether it's watching a product review or learning how to bake a cake, people in APAC use YouTube in countless moments to help them get things done. And that's never more true than during the holidays, when shoppers watch videos to learn more about the products and services they are interested in. YouTube watch time in Q4 2015 increased 24% compared with the rest of the year.3
Watch time jumps in particular on mobile. Mobile now accounts for 68% of YouTube watch time in APAC and mobile watch time during Q4 2015 increased 33% compared to the rest of the year.3 People use mobile video to stay entertained, sure, but largely also to research products and get gift ideas.

As shoppers research on mobile, nearly every shopping category sees search uplift
There's good news for retailers in all of the main product categories. During the holidays, search interest peaks across the board. Here's how it looks across the region:
Increase in Shopping Queries on Mobile During 2015 Holiday Season vs. Rest of the Year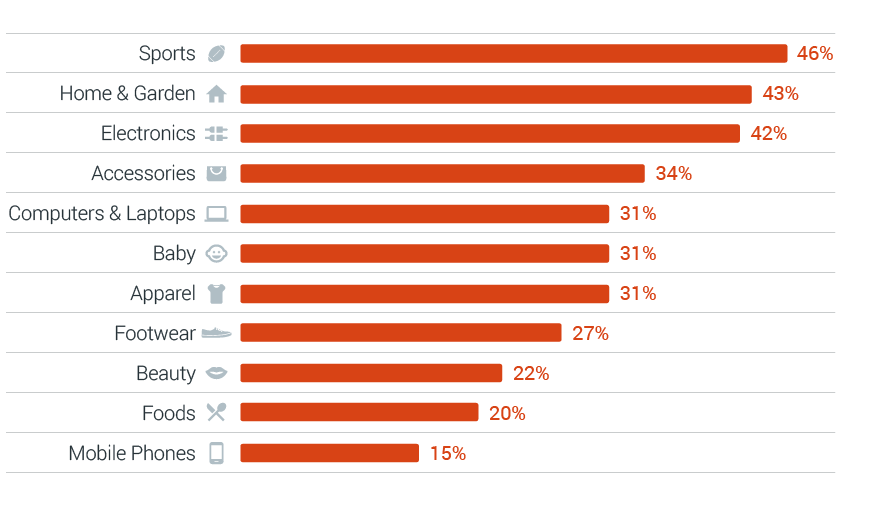 Things get even more interesting when we look at the top growth category in each country (based on shopping-related searches on mobile during the holiday season).
Top Growth Categories by Country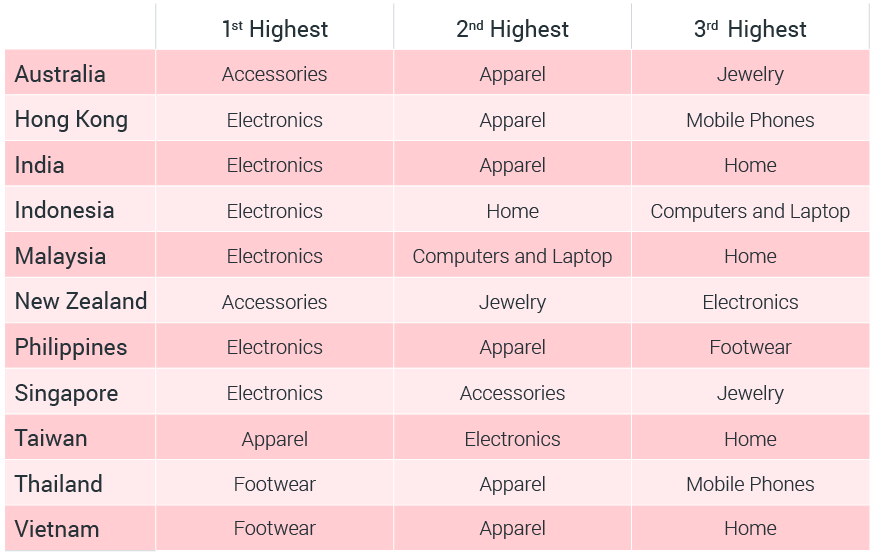 Electronics rules the day in lots of APAC countries, but it's clear that Australians love to add flair to their wardrobe with accessories and jewelry, and Thailand and Vietnam have their fair share of footwear enthusiasts.
When it's time to buy, shoppers take advantage of key sale days
Shoppers in APAC are busy hunting down the newest, coolest electronics and the latest fashions all season long—and it all reaches a fever pitch on the season's biggest sales days: Single's Day and 12-12 in China and Black Friday and Cyber Monday all over the region. And the hype gets bigger every year.
Black Friday Mobile Search Volume, APAC

Each year, more people are choosing to make the most of these shopping bonanza days by doing at least some of their shopping on mobile. From 2013 to 2015, mobile queries increased 2.2X for all major sale days in APAC, led by Singles Day and Black Friday.4 For this year's Singles Day in China, Alibaba and JD.com said more than 80% of Singles Day transactions took place on a mobile phone. Across the region, big money is being spent on small screens.

How your brand can make the most of the holiday shopping season
1. Leverage the power of mobile video to engage shoppers early: Viewers come to YouTube with intent, so it's the prime place to reach engaged, interested viewers. If your brand can capture APAC shoppers' attention and truly be unskippable, you'll be rewarded with eyeballs. See how Netflix, Agoda, and Chevrolet did it. New formats such as six-second Bumper ads combined with TrueView can help your brand build an efficient campaign capable of reaching your target audiences far and wide.
2. Be present when shoppers want to know more about your product: As shoppers research more across categories during the holiday period, it's as simple as being there. When shoppers are searching (especially on mobile), have a strong presence to meet them in their moments of need.
Show up when shoppers are looking for something specific ("black suede stilettos") in I-want-to-buy moments and when they're looking for more general information ("latest smartphone features") in I-want-to-know moments. Even if you don't have an e-commerce site, you can guide local shoppers ("TVs on sale near me") right to your door in their I-want-to-go moments. Think in particular about shoppers getting a new (or even their first) smartphone. Once they power up, they're on the hunt for apps that can help them get and buy what they need. Many brands find that their most loyal shoppers are heavy app users, making apps a great medium to establish deep, long-term relationships with users.
3. Reach shoppers on key sale days: Top shopping days such as Singles Day and Black Friday attract large numbers of shoppers. Brands can make full use of these days by ensuring their presence across all sale platforms. Sale days are also the best time to attract first-time users who are more likely to shop during holidays. Think of ways to remove barriers for new consumers with promotions such as free delivery with no minimum order size, hassle-free returns, and multiple payment options, including cash on delivery.
4. Build a mobile-first plan: Mobile is at the center of all shopping activity in the holiday period. Shoppers should be able to find and engage with you on mobile throughout their purchase journeys. If you have an app, running app-only promotions during the holiday season can help brands acquire and engage shoppers. In addition, offering the same promotions on the mobile web that you do via your app helps eliminate friction for users who don't want to download an app.
No matter what industry you're in, mobile-first shoppers are likely out there looking for what you can offer. If you can meet them in their moments of need, you can win hearts, minds, and dollars this holiday season.