'Tis the season...already?? Summer may have just ended, but it seems the holidays are right around the corner. From planning parties and vacations to cooking up special recipes with friends and family, the holidays in Hong Kong are about much more than gifts under the tree. For inspiration, entertainment, and the hunt for the perfect gift, more and more Hong Kongers are turning to the web early—and often. Check out these key insights to ensure your brand is ready to meet consumers as they get ready for holiday festivities.
Even before the malls start humming with Christmas carols and festive lights go up on the skyscrapers along the Fragrant Harbour, Hong Kongers are already thinking about making the most of their holidays.
With more people turning to the web to research and plan for the festivities than ever before, marketers need to plan their holiday strategies far in advance. Here's a look at when and why Hong Kongers go online—and what they're looking for when they do.
Holiday fever heats up early in Hong Kong
Christmas Day may be the height of the holiday season, but people in Hong Kong start planning months beforehand. Before locking down their travel or party plans, they're thinking, "which shops nearby sell craft supplies for holiday cards," "where should I go for vacation," and "what size Christmas tree will fit in my apartment?" All told in 2015, there were more than 8M holiday-related searches in the months leading up to Christmas and New Year's—a 12% increase from 2014.1
Holiday-related searches that include keywords such as "旅行" (travel), "聖誕 禮物" (Christmas gift), and "聖誕 假期" (Christmas holiday) start to pick up as early as September and increase 46% from September to October.2
Holiday-Related Keyword Searches Between July and January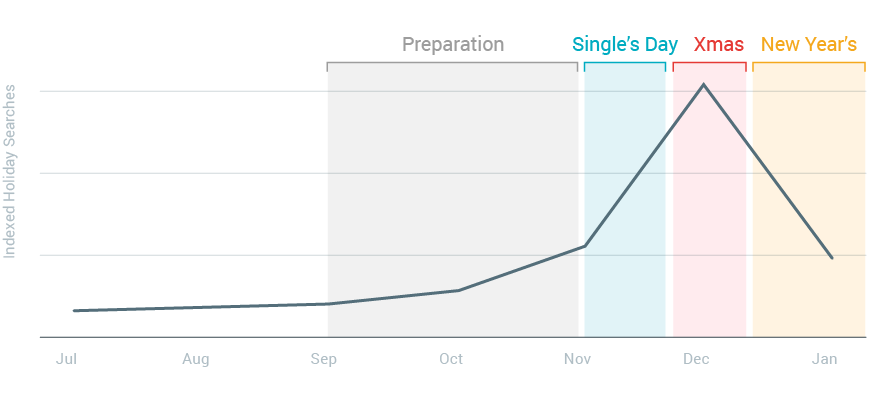 The holidays aren't all about shopping, but Single's Day sure is. Even though the trend started in China, Single's Day, the world's biggest online shopping day, is fast becoming one of Hong Kongers' favorite reasons to hit the web during the holiday season. They search for local in-store promotions along with the best discounts ("Single's Day deals") from online retailers such as "Taobao."
Here are some of the most popular keywords in Hong Kong as shoppers prepare, shop, and make merry:3
Common Holiday-Related Keywords Between September and January
Marketer takeaway: Be there
Get an early start on planning your holiday season campaigns so your brand can be there when shoppers turn to the web, on desktop or on mobile. Consumers want to quickly find answers and products that meet their needs—and a robust digital presence can help you get in front of these intent-rich shoppers right when they're looking to go, do, and buy.
Due to high demand in Google Ads,4 cost-per-clicks for holiday-related search terms tend to steadily increase from October to Christmas, so getting an early start will help your brand jump ahead of the competition and connect with shoppers at a lower cost.
The holidays stir up search interest in more than just gift shopping
As Hong Kongers look for holiday vacation getaways and search for the perfect Christmas gift for their in-laws (this year you'll get it right!), they experience thousands of I-want-to-know and I-want-to-buy micro-moments. Shopping for gifts is one of the top items on Hong Kongers' holiday checklists,and they're looking to do that online more and more.
Compared to the rest of the year, searches increase in Q4 across these major product categories:3
Major Product Categories With Higher Search Volumes Between October and December

While gift shopping is a big part of the holidays in Hong Kong, it's just one piece of the pie. After all, what's the holiday season without exchanging seasonal sweets, a visit to the Stanley Christmas Market, or New Year's Eve parties?
Here's a look at non-branded holiday-related searches during the holidays. Hong Kongers have a wide range of interests as they plan for the festivities:5
Non-Branded Holiday Searches Between October and January by Category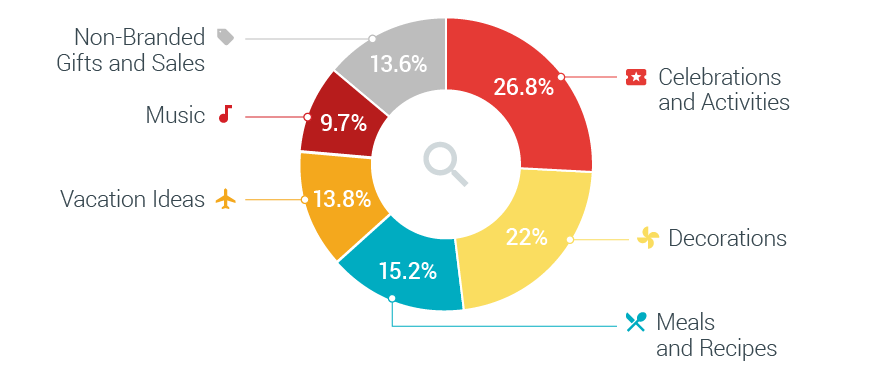 Whether they're out admiring the holiday light displays in Harbour City, enjoying a Christmas Day buffet with friends and family, or booking a post-dinner karaoke session, search volumes in these categories during the holidays show just how involved Hong Kongers get with the festive season:3
Search Volume Growth Between October and December by Category

Marketer takeaway: Be helpful
To connect with audiences online during all their holiday-inspired micro-moments, brands need to be ready with relevant digital content across a wide range of topics like beauty, music, and dining.
Developing content and bidding on keywords related to a variety of topics will help your brand boost its visibility to Hong Kongers in their intent-driven moments. Think about what users with different interests would search for, like foodies ("Christmas dinner set near me"), nightlife enthusiasts ("best nightclub holiday parties"), and beauty mavens ("New Year's makeup look"), and target them with useful, relevant content.
Hong Kong loves holiday-related YouTube content
Online video is huge in Hong Kong, especially during the holidays. With billions of views on YouTube between October and December of 2015, viewership across major categories like entertainment, music, and beauty increased by 43% compared with the same period in 2014.6 This leaves brands with abundant opportunities to meet viewers on the platform with relevant seasonal content.
As one example, P&G's Japanese beauty brand SK-II leveraged its relationships with celebrity sponsors and bloggers to create YouTube videos that showcased its holiday product packaging. At the end of the videos, a "buy now" button linking to the brand's website appears so shoppers can purchase the featured products right away.
This type of branded video content captures the multi-layered interests of Hong Kong shoppers, who are in the market for new beauty products.

SK-II's Christmas video campaigns showed immediate impact in Hong Kong. "We had fantastic results in last year's Christmas period in Hong Kong in terms of both sales and trials," said Fumihiko Nishida, brand manager for SK-II Hong Kong & Taiwan. "These videos were key drivers of making SK-II's 'festive' bottle more popular in the digital space."
Marketer takeaway: Be in the holiday spirit!
Get a headstart on creating seasonal video content to meet consumers where they love spending time during the holidays: YouTube. Brands with seasonal content in their marketing strategies are primed to capture the attention and consideration of a wide range of viewers during the holidays.
While Hong Kong is preparing to deck the halls (and the malls), marketers have a tremendous opportunity to be there and be useful for consumers along the way. In a city that never sleeps, knowing how, when, and where Hong Kongers go to get ready for the festivities goes a long way in being present in all their holiday-inspired micro-moments.