The deluge of choices and information in the world can leave people feeling confused and paralyzed when it comes to making decisions, even the simplest everyday ones. It's why consumers in Vietnam are turning to Search as a trusted platform and an unbiased aggregator to help them make sense of information and carry out purchase decisions with confidence.
As Search becomes more integral to the way Vietnamese people live, brands need to be sure they're not caught off guard by marketing pitfalls that can limit the power of Search in their marketing strategy. Our latest consumer and marketing research provides insights that can bolster your search marketing strategy.
Search is a sensemaking hub for Vietnamese people
The Year in Search 2021 report reveals that Vietnamese people are reevaluating their lifestyle choices and their Search habits are changing in tandem. They are more proactive about seeking out the truth, fact-checking, and weighing the trustworthiness of brands.
Among Vietnamese people who have made a purchase in the past 18 months, 95% agree that it's necessary to research all relevant information about a product or service before making a purchase.1 They do this to find what they need, discover the best deals, and feel confident about their purchase decisions.2
For brands then, Search is a way to connect with Vietnamese consumers looking for reliable information. To drive brand trust and purchase decisions, the following marketing pitfalls should be avoided when building out your marketing mix.
Pitfall No. 1: Omitting Search from your marketing plan
Kantar's Emotional Value of Search study tells us Search is a constant part of the Vietnamese consumer journey. Consumers ping back and forth between exploring and evaluating information until they feel confident in their purchase decision. Indeed, 73% of them access one or more research touchpoints across e-commerce sites, apps, or brand websites, starting with a search engine.3
Search engines, in fact, were the top touchpoint for Vietnamese shoppers last year across all kinds of products.4 Whether they were shopping for electronics or cars, personal finance or telco products, Search helped them resolve doubts and make informed decisions with confidence.
Percentage of Vietnamese shoppers who turn to Search for relevant product information: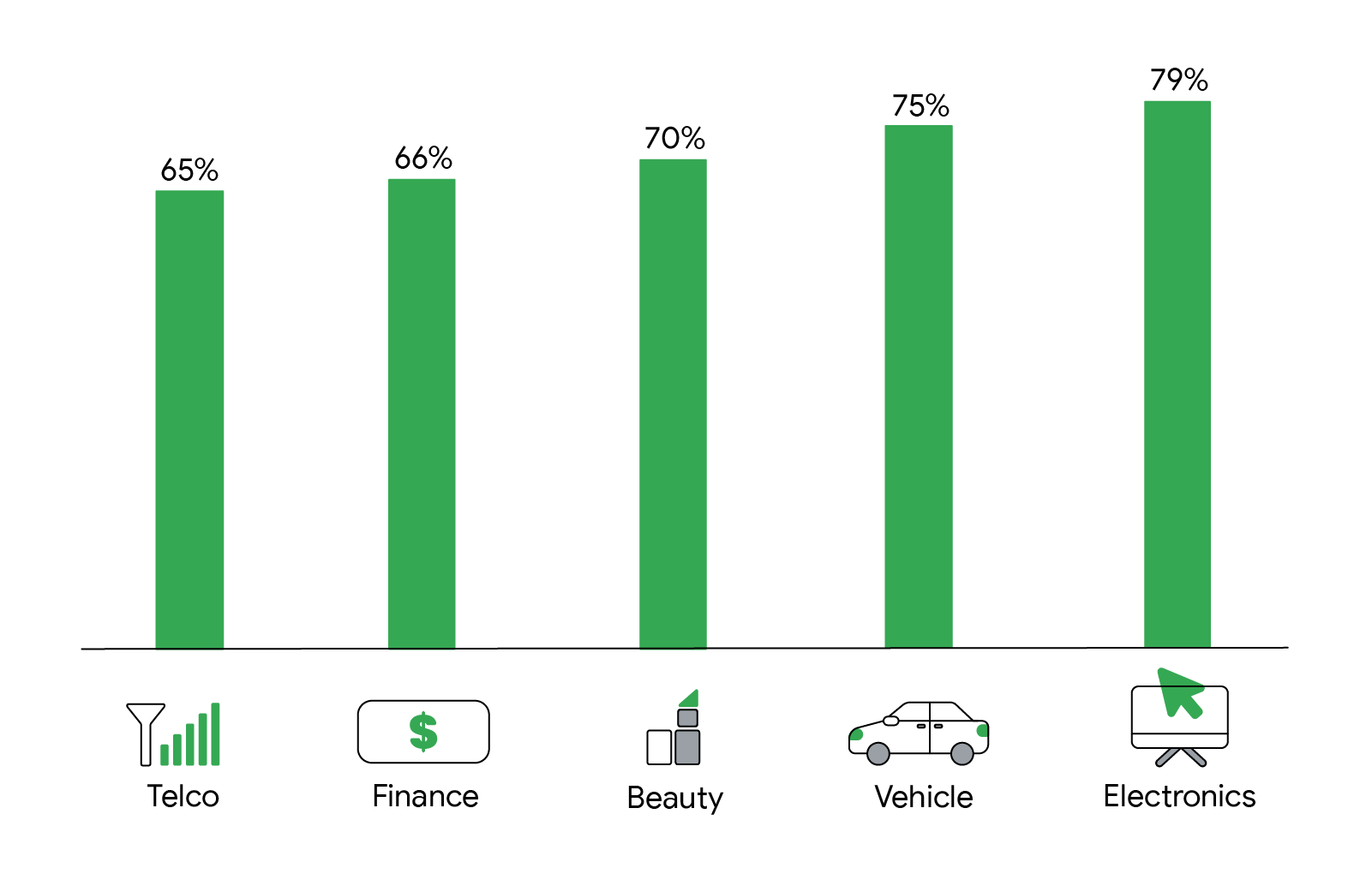 Leaving Search out of your marketing strategy would mean missing out on opportunities to reach Vietnamese people right when they're searching for answers to their consumer needs. To avoid this pitfall, take steps to advance your search strategies and provide clear product specifications, genuine product reviews, or information from experts. You can also maximize the power of Search by combining it with other media platforms. The return on investment improves by as much as 25% when Search is combined with TV, and by 13% when combined with online video.5
Pitfall No. 2: Using Search only for performance
Search is more than a tool to achieve performance marketing outcomes such as site visits, inquiries, leads, and sales. Beyond these short-term outcomes, Search enables brands to achieve something far more enduring – brand trust.
This is critical because false information and confusion are on the rise. In Vietnam, Search interest for "scam" has grown 54% year over year. Given that people are turning to Search to determine the legitimacy and reliability of products and services, brands should build their presence on Search to nurture customer relationships.
Going a step further, brands must be reliable sources of information to win over the 85% of people who say they will purchase from companies that provide trusted information.6 Specifically, people are looking for brands that provide helpful information when they are exploring options, as well as brands that make them feel confident in their decision, and those that make them feel empowered to make good choices.7
Vietnamese people say they're more likely to buy from a brand that:

One way to provide helpful information to people is by making relevant content available to them. Responsive search ads and image extensions enable brands to deliver ads that closely match what people are searching for at any time. These personalized answers, providing clear and reliable information, build brand trust and consumer confidence, and set the brand up for long-term success.
Pitfall No. 3: Avoiding Search automation in marketing
With 15% of Search queries having never been searched before, marketers may struggle with manually selecting all the keywords required to optimize their campaigns. Search automation, however, eliminates the need to guess, enabling brands to respond to people's search needs more quickly and with greater efficiency.
L'Oréal Vietnam, for example, made Search automation a part of its marketing strategy when it sought to optimize its retail co-op campaign with Shopee. Its aim was to increase sales volume while improving return on ad spend (ROAS). The result was multifold leaps in ROAS and conversion rates.
It piloted the Performance Max campaign last year to automatically create ads across various channels such as Search, Shopping, Discovery, and YouTube, using existing product images and information in its product feed. Smart Bidding and other automation solutions were applied to find better converting customers across all Google ad channels, while its ROAS was continually optimized by machine learning. The result was 2.4X higher ROAS for its campaign in December, and when compared with its smart shopping campaign in November, it yielded a 4.1X higher ROAS and a 13X higher conversion rate.

"We believe that Google's Performance Max solution is the bridge that connects all Google channels to achieve higher conversion optimization with cost efficiency."
Vietnamese people choose to turn to Search throughout their consumer journey to make sense of information and feel confident about their purchases. For brands, this makes Search an ideal platform to reach a large audience quickly and effectively. By prioritizing Search automation in your marketing strategy, you'll be able to not only meet consumers in their moment of need, but also build brand trust and drive business results.
Contributors: Hans Doddema, Performance Solutions Specialist; Thao Dao, Data and Insights; Magda Gameel, Industry Manager (Vietnam)