Marketa Kristlova is the Senior Brand Manager for Easter at Cadbury U.K. — part of Mondelēz International — and leads some of the brand's key campaigns. Charlie Griffith is a Senior Account Director at VCCP, Cadbury's creative agency.
It all came from a lightbulb moment: hiding eggs, not hunting for them, could inspire more generosity for Easter. As Cadbury is a brand built around generosity, it felt right to try to own this ritual, with an aim to help anyone who wanted to hide an egg for a loved one, even if they physically couldn't be together. That was the nugget that sparked the Worldwide Hide.
The challenge was how to bring a good idea to life. Which partners did we need to work with to make this a reality? As we explored these questions, the enormity of the pandemic became clear, and with so many of us unable to see family and friends in person, the need for digital solutions and the scale they offer intensified.
Hiding giant purple eggs around the world with the help of Google Maps
We started with Google Maps, because it's a familiar platform for consumers, with the scale and expertise we needed for an ambitious project.
From a technical perspective, it took a year from idea to fruition — involving data teams, legal advisors, fulfillment partners, and more. At the start we didn't know how long the pandemic would last but as restrictions persisted the idea gained even greater relevance. We enabled a nation in lockdown to connect with their loved ones despite not being physically together. They could digitally travel the globe, hide eggs for free, and see them on Street View. They could also leave personalised messages and, if they wanted, buy an egg too, which would magically appear on their loved one's doorstep. The focus was on creating a seamless user experience from start to finish.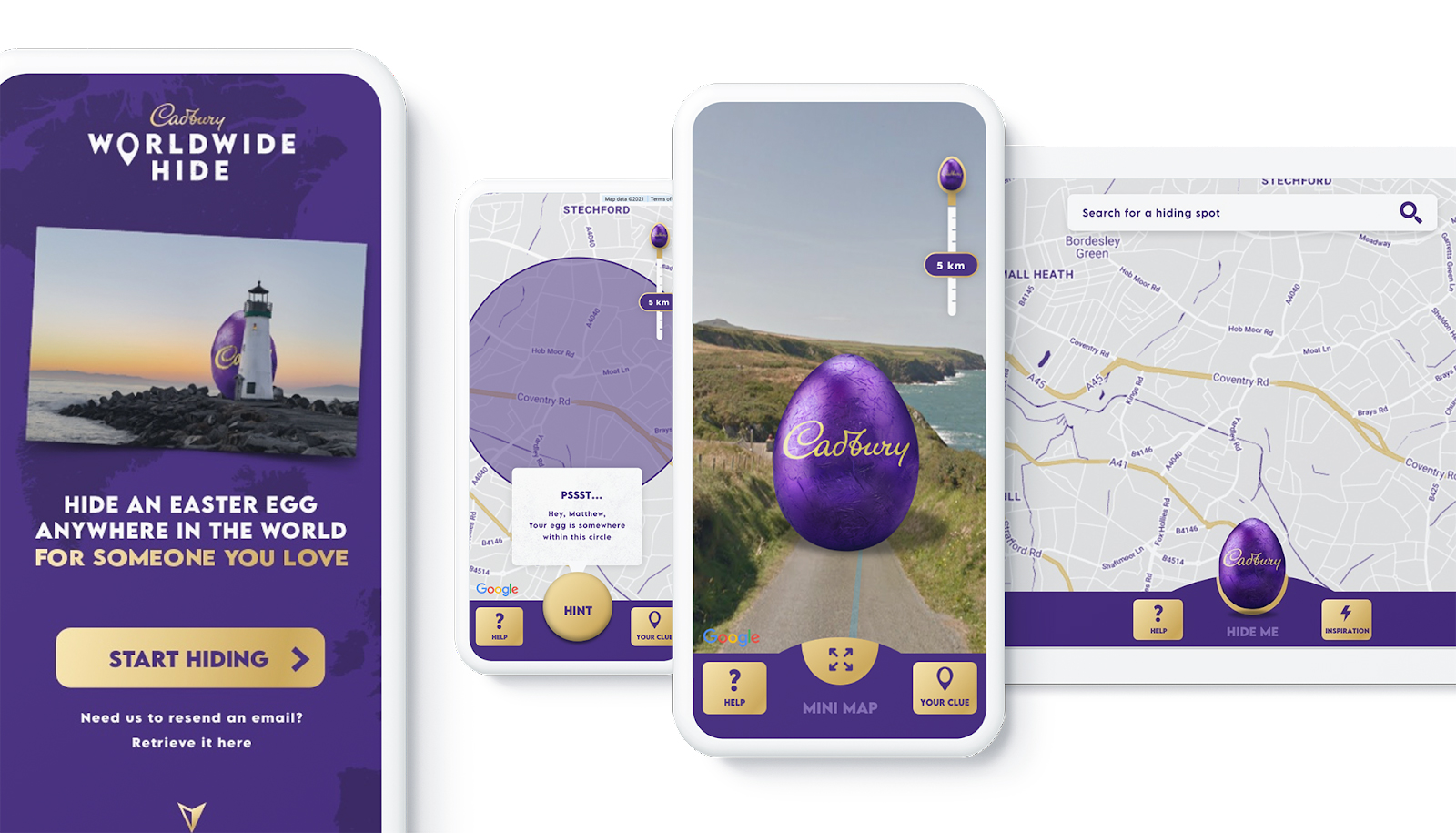 We used YouTube to visually bring the technology to life and create a hook that was both relatable and impactful. The creative concept was simple: huge purple eggs would be hidden around the world and pop up in the likes of English villages, the Scottish Highlands, and Italian hilltop towns.
We used a 30-second ad to create that emotional connection, with lines like "Do you remember where we were when that seagull nicked our chips on the beach?" Shorter, sharper cut-downs enabled more personalisation and relevancy, with a clickable call-to-action taking the viewer seamlessly from YouTube to the Worldwide Hide site.
Sales, brand growth, and "wow moments"
There were lots of "wow moments" during the campaign, but one that stood out early on was when a consumer said she'd like to propose to her partner using the platform. That was when we knew we had something that people really wanted to engage with.
When you deliver a tangible benefit, something fun, and a great user experience for consumers – engagement and results follow
In addition to hearing wonderful stories from our customers using the egg hunt to connect with loved ones, the campaign achieved some great numbers around sales and brand perception too. In the U.K. alone, the Worldwide Hide saw 1.8 million site visits, 700,000 eggs hidden across the globe on Google Maps, and close to 15,000 eggs bought online from customers who clicked through to the shop directly via the campaign.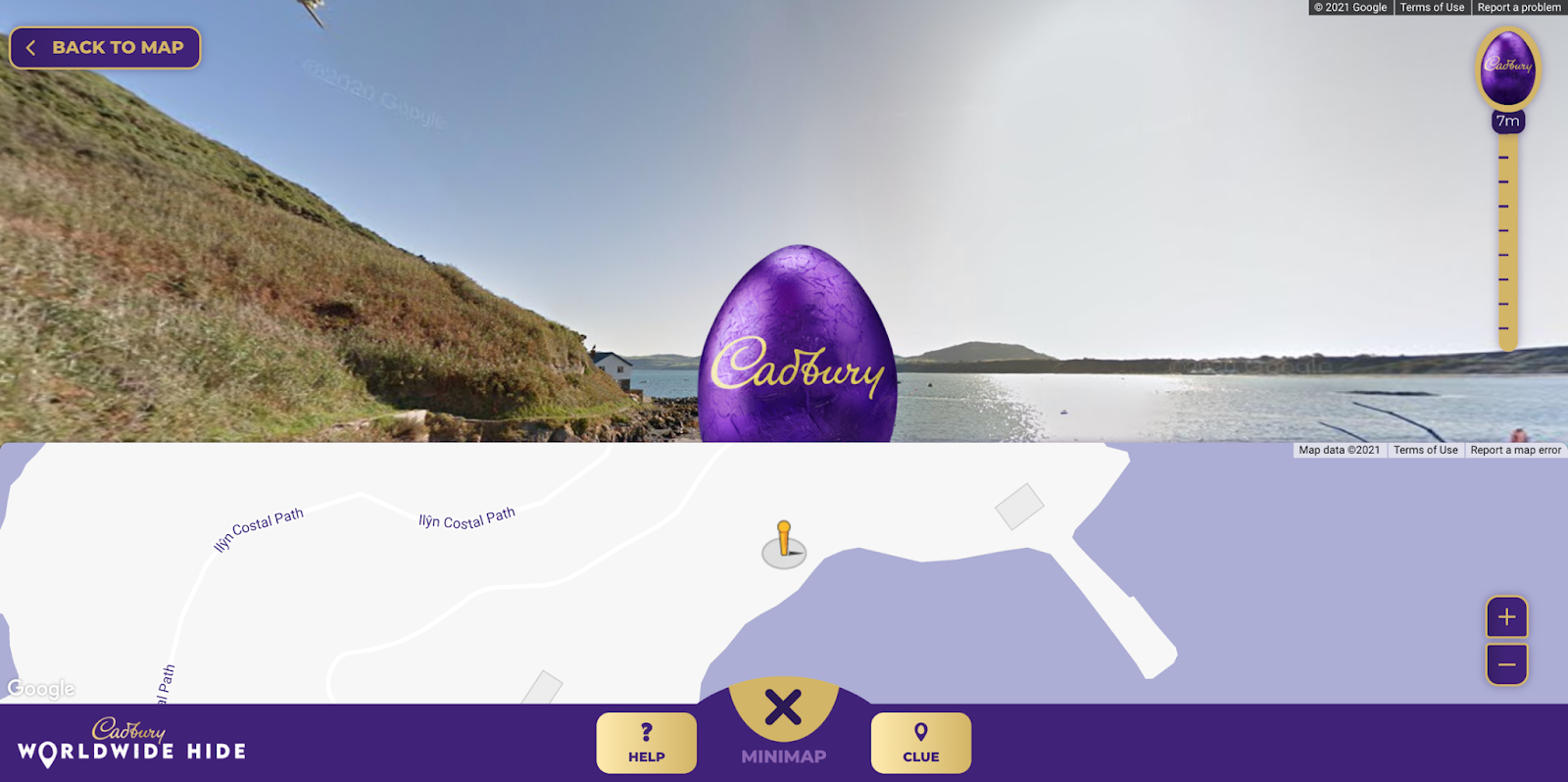 It shows that when you deliver a tangible benefit, something fun, and a great user experience for consumers, engagement and results follow — and more value is created for the brand.
The average time people spent on the site was more than five minutes, and that's with users fully present. When you're thinking about where to put your egg, writing a personal note, and searching Google Maps, it's unlikely you'll be multi-screening at the same time.
And YouTube was a real breakthrough. We demonstrated how effective it is in driving direct action and how great it is for long-term brand growth.

4 learnings for sweet success online
Next year's Worldwide Hide is already taking shape, and we're applying plenty of learnings from 2021's campaign to help build on its success. We've pulled out four takeouts that are relevant for creating meaningful user experiences and the campaigns to support them.
Give a good idea room to grow
You might only have the seed of an idea, but if you give it time to develop it can turn into something really special. In the year it took us to develop the Worldwide Hide, two months were given to the discovery phase. We asked hundreds of questions, which often led to more, on everything from how we'd ensure data privacy to how many people might get involved. Plus, we used this time to identify fulfillment partners and CRM needs so customers could buy eggs. It allowed us to put everything on the table, consider all elements, and ensure the end experience was seamless for the consumer.
Go with your gut (with support from the data)
The campaign was always meaningful from a brand perspective, tapping into the central Cadbury value of generosity. But, to be truly effective, you need to understand your consumers and offer them something valuable. We had a lot of market research, and we discovered that people weren't engaged with Easter egg hunts as we once knew. The data is invaluable in showing when you're on track and which insights and wins to focus on.
Bring more joy to more people with technology
Google Maps and YouTube were the logical solutions for us to reach and connect with as many people as possible in a genuine way. The Worldwide Hide allowed anyone with an internet connection to hide an egg for free, show their generosity by purchasing eggs for loved ones, and connect online around the world even if they couldn't physically.
Be creative and be consistent
The challenges of the pandemic encouraged us to be more innovative digitally. We put our YouTube ad on TV and we learned that different channels offer different audiences, but having consistency of the messaging across touchpoints was enormously effective.